News story
DEFEXPO 2016: UKTI DSO supports UK defence and security companies
UK highlights of DEFEXPO were bilateral meetings between India and UK culminating in a UK company agreeing a £193 million contract.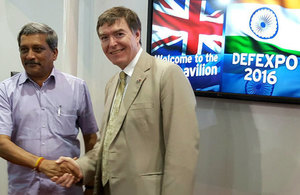 The UK focus was to deliver a programme of meetings with Indian ministers and businesses for Minister Defence Procurement, and to support the 15 companies in the UK group.
The UK team also met with visiting Indian and international delegations to promote the UK's wide ranging offer of defence products and long legacy of making in India, a strategy to build defence equipment in India.
Main activities during the 4 day event included:
28 delegations visiting the UK pavilion
ministerial bilateral meetings with both Indian Defence Ministers and Indian industry
UK Trade and Investment Defence and Security Organisation (UKTI DSO) Regional Director spoke at a joint Confederation of Indian Industry (CII) / ADS Conference on UK-India Cooperation
a UKTI DSO official also spoke at a CII conference on Supply Chain management opportunities for Indian companies
over 40 media engagements delivered attracting national, international and specialist coverage, including the signed contract for a £193 million submarine rescue capability by a UK company
Feedback from the UK companies was very positive, commenting on:
the range of new and existing business opportunities the event helped them to take forward
the important support they received from UKTI DSO
DEFEXPO 2016
A change of location for DEFEXPO from New Delhi to Goa offered new challenges and opportunities for the visiting UK team led by Minister Defence Procurement, Philip Dunne MP, supported by:
the British High Commissioner to India
UKTI DSO Regional Director
defence staff
First Secretary Defence Supply (FSDS)
UKTI DSO
Published 7 April 2016