Defender completes her first sea trials
The £1bn warship is the fifth of six built for the Royal Navy, and following the trials has now returned to the BAE Systems yard in Scotstoun…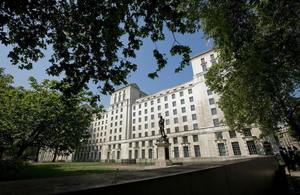 The £1bn warship is the fifth of six built for the Royal Navy, and following the trials has now returned to the BAE Systems yard in Scotstoun, Glasgow, where she was built.
Thanks to the progress made with her four older sisters - Daring, Dauntless, Diamond and Dragon, all now in the hands of the Royal Navy - her maiden voyage was the shortest of the Type 45 destroyer programme to date.
That said, all the basic functions - if you can ever call Britain's most advanced surface ship basic - needed testing: speed, manoeuvrability, power and propulsion systems, 'domestic services' (galley, laundry, messes and the like), plus weapons systems and sensors.
Now back alongside, further work and testing of systems will continue at the BAE Systems yard while the ever-growing ship's company make best use of their time on the Clyde to forge links with the people of Glasgow.
Defender will be affiliated to the city for the next 35 years and the crew have already started to fundraise for their chosen local charity, the Kelbourne School for the physically impaired.
Defender's Senior Naval Officer, Commander Nicholas Boyd, said:
These are the first steps in getting her awesome capability into service and deploying her in support of UK interests worldwide.

Our remaining time in Glasgow will be busy; primarily working with BAE Systems in getting Defender ready for acceptance, but it will also allow us to further broaden our formal affiliation to the city, a link that will endure for the next 35 years.
The ship's company have run regular events with BAE Systems' employees, including a couple of race nights and a marathon row along the length of the River Clyde - 176km (or 109 miles).
Money raised from these events was increased thanks to a tuck shop and laundry run by BAE Systems' employees Robert Cullen and Derek Keough, meaning a total of £2,600 was this month shared between the ship's charities and BAE Systems' charity, Erskine Hospital.
As for the ship, she'll return to sea in March 2012 for a second set of trials and is on schedule to make her debut in her future home of Portsmouth in mid-July 2012.
After more trials and training, she'll take her place in the fleet from early 2013.
Published 21 November 2011