Defence Training Estate changing to meet operational demand
Originally Iraq-centred, but now focused on the requirements of operations in Afghanistan, training estate improvements include the 2009 developments…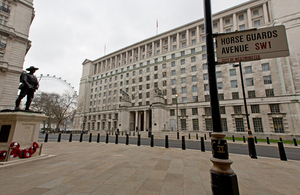 Originally Iraq-centred, but now focused on the requirements of operations in Afghanistan, training estate improvements include the 2009 developments at Thetford, where Afghan villages and Forward Operating Bases have been replicated in the east of England.
The success of this initiative sparked a programme which has spread throughout the UK. Colonel Mark Waring, Commander of the Defence Training Estate explains:
Salisbury Plain, for example, has traditionally been very much the manoeuvre training area for the army, the only training area in the UK where you can move armoured vehicles, across country. It's now rapidly changing to replicate conditions in Helmand, which requires not so much moving across country but along routes to and from fixed points using Forward Operating Bases (FOBs), Afghan compounds and villages.
Overseas, the Defence Training Estate division of Defence Estates (DE) manages training areas in six countries - meaning that as well as getting to grips with Afghan-style buildings, troops have the opportunity to train in realistic climatic conditions.
The ongoing infrastructure programme includes new works in Kenya, whilst in Germany, three Afghan villages and three FOBS are under construction at Sennelager.
As well as considering the infrastructure set-up that troops might meet in Afghanistan, developments on the training estate must address changes in military equipment. Col Waring continues:
One of the interesting challenges is that there's two sets of equipment out there at the moment. There is half an army training with the conventional equipment for a future war - Challenger tanks, Warrior Infantry vehicles, AS90 guns, and so on.

At the same time we've got an operational training fleet specific to Afghanistan being used in increasing numbers on the training estate, and that's required a different kind of facilities and usage. And we need to support both types of training and both types of equipment.
As a military man who has seen recent active service in Iraq and Afghanistan, Col Waring has a first hand understanding of what the Forces require at their training areas. He lists:
…a really good booking system…a warm welcome, good food and a comfortable bed. In addition, help in developing their training packages and available training areas and facilities to successfully achieve all of their training objectives.
DTE is obviously delivering what the Services want - Col Waring receives very few complaints. He attributes this success to DTE staff.
When I visit the DTE Regions I see people working with great passion and pride to do everything that is asked of them by a very demanding customer.
This article is an edited version of an interview with Colonel Mark Waring conducted by Kathy Dicker for the Summer 2010 issue of Estatement Magazine. You can read the full article by following the related link to Estatement on the right hand side of this page.