Defence Secretary meets Governor of Helmand on visit to UK
Governor Mangal spent time with Dr Fox discussing the current situation in Helmand province where the bulk of Britain's 9,500 troops are deployed…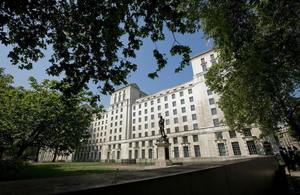 Governor Mangal spent time with Dr Fox discussing the current situation in Helmand province where the bulk of Britain's 9,500 troops are deployed.
Dr Liam Fox said:
Governor Mangal and I had a successful meeting where he described to me real progress that he has seen in Helmand over the last two-and-a-half years.
"British forces are working with the ever improving Afghan National Security Forces to expand Afghan security.
"Governor Mangal was determined that British troops would be able to hand lead security responsibility to Afghan forces in many of the districts of Helmand in the coming years. > > Governor Mangal has been a great ally to international forces in Helmand in recent years, working hard on behalf of his president to expand to improve the level of governance in that part of the country.
"We were absolutely clear that we will work together to improve security in Afghanistan which will make Britain and her allies more secure."
As part of his week long visit, Governor Mangal has had a series of meetings with MPs, including the Secretaries of State for Foreign Affairs and International Development.
He will visit the National Memorial Arboretum tomorrow to pay his respects to the servicemen and women who have paid the ultimate sacrifice in Afghanistan.
Published 3 November 2010