Defence project managers' excellence recognised
Defence Equipment and Support (DE&S) programme and project managers are performing near the top of a wide field of international blue chip companies and other government organisations in the UK and overseas, according to an independent external assessment.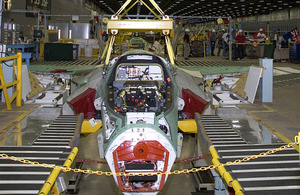 DE&S took part in its third assessment by Human Systems Ltd, an internationally recognised benchmarking organisation dedicated to improving corporate project, programme and portfolio management practices through focused research, and for the second year running has come out in the top ten of 56 organisations, ten of whom manage projects with similar scale, risk and technical complexity.
MOD Permanent Under Secretary (PUS) Ursula Brennan said:
"This evidence of continuing impressive performance by DE&S project teams in the management of equipment programmes is very important and encouraging. As the Secretary of State has made clear, the MOD must continue to make a range of further improvements. The MOD's acquisition skills are under extremely close public scrutiny - this evidence proves that we are going in the right direction."
Chief of Defence Materiel Bernard Gray said:
This comparison with such a wide range of major companies and government bodies is valuable and instructive. They are our peers in this field and the evidence demonstrates that in a direct comparison DE&S is doing well. The Secretary of State has given a clear view of the changes and improvements needed as we move forward, on which I will be working closely with the PUS, but this is a very welcome confirmation that we are on the right track." DE&S Chief Operating Officer Dr Andrew Tyler said the assessment covered both the DE&S approach to project management and the deployment of project management skills in practice (see graphic). He said:
"This evidence of sustained improvement in the performance of DE&S in the key area of programme and project management [PPM] is not a surprise to me. We have worked extremely hard over recent years to improve our performance and have passed the 1,000th project management licence under the MOD's licensing scheme [based on a combination of an assessment of experience and achievement of Association for Project Management qualifications] this financial year.
"We are now planning the launch of our MOD Programme and Project Management Cadre - a bringing together of the Department's very best programme and project managers to further assist in developing our skills, nurturing talent, pervading best practice, and ensuring we have the most qualified and experienced staff deployed on our most challenging projects.
"All of this continues to be overseen by the MOD PPM Centre of Excellence administered by the Programme and Technology Group in DE&S. All in all, I am very encouraged by our performance and the fact that the major effort we have put in is reflected in such a significant benchmarking exercise."
Dr Tyler said evidence of the excellence of the PPM skills in DE&S was now being translated into results on the ground - in performance on equipment and support projects. And DE&S project team performance was such that they were frequently spotting potential problems and risks ahead of industry partners on equipment projects. Benchmarking
The annual benchmark was introduced in 2003 following parliamentary committee concern that there was no independent assessment of DPA (Defence Procurement Agency) project management performance. Benchmarking has since been expanded to embrace programme management performance.
Comparator organisations
The field of 56 comparator organisations provides a challenge across a wide range of sectors, including government utilities, defence organisations, petrochemicals, pharmaceuticals and financial organisations. There is also a specific benchmark to include a number of companies that manage projects with similar high risk, technology and complexity. The majority of the list of comparator organisations is the same as last year.
ndependent assessment
Benchmarking was carried out independently by Human Systems Ltd, an international PPM benchmarking organisation with significant credibility in the international PPM community. It is aligned to the Bodies of Knowledge of leading professional PPM organisations, in particular those of the Association for Project Management in the UK and the Project Management Institute in the US.
Benchmark criteria
Detailed comparisons are made in 21 core project management areas set under four high-level categories - strategy, ownership, delivery and enablers. Performance is compared in terms of approach (what we say we do, i.e. guidance and instruction) and deployment (what we actually achieve) for each area. Evidence of performance is collected through a combination of paperwork exercises and workshops supported by a wide range of PPM practitioners within DE&S.
Published 14 March 2011