Defence partners scoop water 'Oscar' for sparkling performance
The partnership responsible for keeping Britain's military personnel supplied with water has scooped a prestigious water 'Oscar' with its sparkling performance in saving water.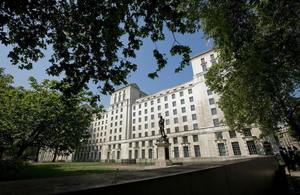 Aquatrine Supplier Association won the Utility Week Achievement Awards 2010 for supply chain excellence by smashing its target for reducing water consumption over a decade ahead of schedule.
The partnership between Defence Estates, Veolia Water Nevis, Kelda Water Services Defence and C2C Services Ltd delivers water and wastewater services for most Ministry of Defence (MOD) sites across England, Scotland and Wales.
It met the Government target to cut water consumption by 25 per cent by the year 2020 in 2009.
By applying the latest techniques and technologies in leakage detection and repair across the Defence estate, the team delivered savings equivalent to 10 Olympic-sized swimming pools every day.
David Olney, Deputy Chief Executive of Defence Estates, said:
Our success at the Utility Week awards recognises the excellence of the working relationship between all Aquatrine parties.
It demonstrates the commitment of both MOD and its service providers to meeting the Government's environmental targets.

Defence Estates' priority is to support our Armed Forces and their families. The Aquatrine partnership helps us to provide water services needed across the military estate, whilst helping to safeguard our environment and provide value for money.

I commend all the Aquatrine staff for their ongoing effort to ensure the continuing success of this project, and I am extremely proud that their efforts have been highlighted at these industry-leading awards.
The partnership's success was achieved whilst ensuring the minimum of disruption to site operations and security of water supply to defence customers.
Published 15 December 2010