Defence Minister presents Nepalese President with Gurkha Annual Report
Defence Minister Mark Lancaster has presented the President of Nepal with the symbolic Gurkha Annual Report – celebrating the Brigade's invaluable work.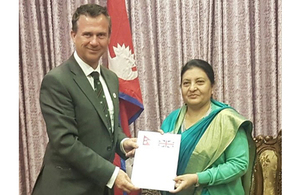 The Minister for the Armed Forces – who served with the Queen's Gurkha Engineers himself – handed the document, which provides an update on the state of the Brigade and their work, to the Right Honourable Bidya Devi Bhandari on Monday.
It shows that the Brigade currently boasts more numbers than ever before, and this year commemorated Gurkha troops reaching the summit of Everest for the first time in their history.
His visit coincided with the completion of local, provincial and parliamentary elections under a new constitution, helping to secure a more peaceful, united and democratic Nepal.
Minister for the Armed Forces, Mark Lancaster, said:
Britain has long supported Nepal's stability and prosperity, and I am delighted to be here at such a pivotal moment in its history. I look forward to continuing the strong bond between our nations, which is underpinned by the magnificent work of our Gurkha troops.
For more than 200 years, Gurkhas have been an integral part of the British Armed Forces – fighting in the First and Second World Wars, the Falklands, Afghanistan and Iraq and winning 13 Victoria Crosses, the highest British award for gallantry.
They were also among the first on the scene when Nepal was hit by a devastating 7.8 earthquake in 2015, helping to rebuild communities and provide aid to those left homeless.
As well as President Bhandari, the Minister also met Prime Minister Sher Bahadur Deuba, Defence Minister Bhimsen Das Pradhan, and other senior military and political figures to strengthen defence and bilateral ties.
Published 13 February 2018