Defence facilities bidders set to tender for England and Wales
Private sector bidders are set to start tendering for three major MOD facilities management contracts across England and Wales worth up to £4.35bn, following a programme of visits to key Defence establishments.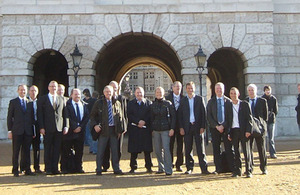 The Defence Infrastructure Organisation (DIO) contracts - Regional Prime Central, Regional Prime South East, and Regional Prime South West - will each deliver maintenance and repairs to the built estate, with other services including a 24/7 helpdesk for estate-users, a regional utility management bureau, grounds maintenance, and snow and ice clearance. The contracts also include options for land management services and construction projects valued below £3.93m.
Under the DIO's Next Generation Estate Contracts (NGEC) programme, up to four bidders have now been shortlisted for each of the three contracts (see Notes to editors for further detail). The site visits programme has been aimed at raising their knowledge and familiarity with the full span of MOD facilities and the Defence personnel that use them, prior to the intensive 'negotiated tendering' process.
During September and early October the NGEC teams have been escorting the bidders to 28 of the 230 main establishments covered by the contracts, selected for their diversity and importance to military outputs. The bidders toured the establishments visiting key buildings and facilities along the way, ranging from office blocks and technical buildings to living accommodation and dining facilities. They also met with DIO site representatives and military site-users to discuss their individual requirements.
Gill Hodson, the senior NGEC project manager, said:
DIO's priority is to support our Armed Forces as they prepare for operations. These three contracts cover significant geographical regions including a variety of key Defence bases and facilities that are vital to the delivery of military capability, and the incoming prime contractor will play an important part in this. From roofing to runways, we are determined to ensure that the bidders develop a real empathy for our military customers' requirements, which they can then build into the development of their competitive tenders.
David McLaughlan, the NGEC senior commercial manager, said:
Good prime contractors need healthy, robust supply chain arrangements, which is why we will be exploring bidders' plans in this area of development during this key stage in the procurement process. I would urge smaller businesses with innovative estate solutions to make their offering known to the bidders for these contracts as early as possible.
The bidders will shortly be issued with a formal invitation to engage in 'competitive negotiation' as they develop their Regional Prime tenders. They will also be invited to attend the Defence Academy at Shrivenham in early November for a conference on the service requirements, prior to submitting tenders in December 2012. It is expected that the three contracts will be awarded by early 2014 and in service by mid 2014.
Published 23 October 2012