Defence Estates and Woodland Trust support troops and plant trees
Defence Estates (DE) and the Woodland Trust (WT) have launched a partnership which could see thousands of hectares of woodland planted to help British soldiers train more effectively for military operations, whilst helping to double the UK's woodland cover.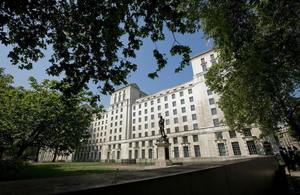 This groundbreaking agreement sees the first 160 hectares, 176,000 trees, planted at the Defence Training Estate (DTE) range at Warcop in Cumbria.
Training provided at Warcop and other DTE sites across the UK is vital in preparing troops for operational deployment. The partnership enables the Ministry of Defence to improve training facilities without extra costs.
At the same time as helping to train new troops, the trees planted will help the Woodland Trust to hit its target of creating thousands of hectares of new woodland each year and double woodland cover in the UK by 2050.
Defence Estates Deputy Chief Executive David Olney said:
Supporting our Armed Forces is the top priority for Defence Estates. We are delighted to join forces with the Woodland Trust and respond to military training needs in providing woodland cover which will benefit soldiers preparing for operations.

This excellent initiative allows us to improve training facilities, whilst securing significant conservation and environmental benefits at no extra cost to the Ministry of Defence.
Stuart Dainton, head of partnerships at the Woodland Trust commented:
Our partnership with the MOD will play a significant role in helping to increase woodland cover in the UK, currently one of the lowest in Europe.

It is a great example of working together, and whilst organisations have different motivations, ultimately everyone involved has benefited from the planting of trees.
Essential funding of over £100,000 and logistical support comes from the North Pennines Area of Outstanding Natural Beauty (AONB) Partnership's Living North Pennines project, with extra money secured from carbon funders such as Waitrose and Eurocamp.
Chris Woodley-Stewart, of the North Pennines AONB Partnership, said:
We are very pleased to be working with the MOD and the Woodland Trust on this fantastic scheme. These new planting areas will create mixed density woodland providing much needed habitats for BAP species including the iconic black grouse.
Around 176000 trees are being planted at Warcop, which is situated in the North Pennines AONB. Planting work should be completed during 2012.
Maj (retd), Tam Campbell, Range Officer Warcop and Chairman of the Warcop Conservation Group, said:
Conservation activity is vital to us. It allows us to run a large estate and retain its natural beauty. We are fortunate to have a very active conservation group and a vast amount of volunteers who we can work with on projects such as this.
"We strike a careful balance between providing training facilities which our soldiers need and taking care of this beautiful landscape - both for the community which lives here now and for future generations."
Published 22 March 2011