News story
DECC appoints non-executive director
Paul Walsh has been appointed as Lead Non-Executive Director for the Department of Energy and Climate Change for two years. He joins DECC&rsquo…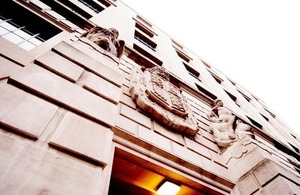 Paul Walsh has been appointed as Lead Non-Executive Director for the Department of Energy and Climate Change for two years. He joins DECC's existing non-executive directors, Richard Reed and Rob Whiteman.
Secretary of State for Energy and Climate Change, The Rt Hon Chris Huhne MP, said:
"I am looking forward to working with Paul Walsh. His experience and business insight will prove invaluable as we work with industry to secure unprecedented levels of investment in our energy sector."
Biography
Paul Walsh is the CEO of Diageo plc. He was appointed to this position on the 1 of September 2000. Paul was chief operating officer of Diageo from 1 January 2000 to 31 August 2000.
Paul joined GrandMet's brewing division in 1982 and became Finance Director in 1986. He held financial and commercial positions with Inter-Continental Hotels and in the GrandMet food business, becoming CEO of the Pillsbury Company in 1992. Paul was appointed to the GrandMet Board in October 1995, and to the Diageo Board in December 1997.
Paul is chairman of the Scotch Whisky Association, and a non-executive director of FedEx Corporation and Unilever plc. He was previously a non-executive director of Centrica plc, stepping down in May 2009. Paul is a former chairman of the court of governors of Henley Management College, and a member of the board of trustees of the Prince of Wales International Business Leaders Forum. He is a member of the Prime Minister's Business Advisory Group. Paul was awarded the 'Decade of Excellence Award' at the UK National Business Awards in November 2008, recognising his success in building Diageo into a world renowned company.
---
Notes for editors
Role and key responsibilities of non-executive board members are:
Non-executive board members, appointed by the Secretary of State, will be experts from outside government. They will come primarily from the commercial private sector, with experience of managing complex organisations.
They will exercise their role through influence and advice, supporting as well as challenging the executive. They will advise on performance (including agreeing key performance indicators), operational issues (including the operational/delivery implications of policy proposals), and on the effective management of the department. They will also provide support, guidance and challenge on the progress and implementation of the business plan, and be involved in recruiting, appraising and ensuring appropriate succession planning of senior executives. They will form committees responsible for audit, risk and remuneration. To share best practice and to ensure departments learn from the successes and failures of comparable organisations, they will meet regularly with other non-executives across government and the Government Lead Non-Executive Board member.
The new protocol for enhanced departmental boards has been published.

Non-executive directors will be offered a fee of £15,000 per annum. An additional £5,000 per annum is offered in recognition of the additional responsibilities of the Lead Non-Executive Board Member.

The existing non-executive directors were appointed in October 2009. Rob Whiteman's appointment is for a period of three years to October 2012. Richard Reed's appointment is to the end of 2011.
Published 17 February 2011