Press release
DECC announces National Nuclear Laboratory Non-Executive appointees
Energy and Climate Change Minister, Baroness Verma, today announced the appointment of Non-Executive Directors of the National Nuclear Laboratory (NNL).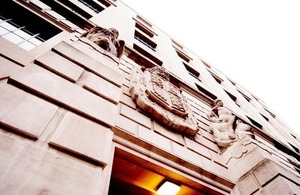 Energy and Climate Change Minister, Baroness Verma, today announced the recent appointment of Sir Andrew Mathews, Dr Mike Weightman and Iain Lanaghan as Non-Executive Directors of the National Nuclear Laboratory (NNL).
As Non-Executive Directors they will work alongside the NNL Chairman, Richard Maudslay CBE and the Executive Directors in providing leadership and oversight for NNL, the UK's national laboratory supporting the nuclear industry in tackling the legacy sites, helping keep the current fleet of nuclear power stations running, and preparing for the new generation.
Baroness Verma said: "As the UK's nuclear industry grows in importance, NNL's work supporting organisations across the sector is taking on increasing importance.
"With these appointments we are bringing an exceptional blend of expertise, ability and experience to NNL's board, and I am sure that the new non-executive directors will make very valuable contributions as the NNL continues to develop as a true national laboratory."
Richard Maudslay, NNL Chairman, said: "I am delighted to welcome the three new Non-Executive Directors to the NNL Board, which we are also strengthening on the executive side through the addition of our new HR Director, Jilly Atherton.
"I would also like to pay tribute to our former non-Executives, Ian Smale and Peter Jones, who both made superb contributions through a period of vital change for the organisation."
Notes for editors
1.The backgrounds of the new appointees are as follows:
Vice Admiral Sir Andrew Mathews KBE FREng
Recently retired from a career in the Royal Navy, Andrew Mathews is a nuclear engineer who served most recently as Chief of Materiel (Fleet), with responsibilities including the acquisition and support of all Royal Navy ships and submarines and the management of the Royal Navy's three naval bases. His previous post was as Director General Nuclear and Director General Submarines.
Dr Mike Weightman, C.B.
Recently retired as HM Chief Inspector of Nuclear Installations and chief executive of the Office for Nuclear Regulation, Mike Weightman is a distinguished former regulator with exceptional knowledge of the UK's nuclear sector. In 2011 he led the International Atomic Energy Agency's independent fact-finding mission to Japan on the Fukushima Dai-ichi nuclear accident. He is Visiting Professor in Nuclear Energy at the University of Cambridge's Department of Engineering.
Iain Lanaghan
Iain is a chartered accountant and an experienced Non-Executive Director, including in the energy industry, and a former finance director / chief financial officer of a variety of firms including FirstGroup plc and most recently Faroe Petroleum plc.
2.The Non-Executive Directors will each receive a salary of £25,000 per year.
3.The appointments have been made on merit, and political activity plays no part in the selection process. However, in accordance with the Nolan recommendations, there is a requirement for appointees' political activity (if any is declared) to be made public. No political activities have been declared.
4.The NNL was launched in 2008, as the successor organisation to Nexia Solutions. It was originally owned by British Nuclear Fuels plc, but since April 2009 has been wholly owned by the UK Government. The Shareholder Executive exercises shareholder responsibilities on behalf of the Department of Energy and Climate Change.
Published 24 September 2014