News story
Decade of work at Dounreay, apprentices told
Nine Dounreay apprentices who received Indenture Certificates at their graduation ceremony last Friday were encouraged to become involved in the "guaranteed decade of work" left on the site.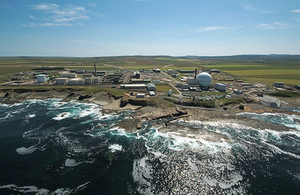 Nine DSRL and three JCL apprentices received their certificates from guest speaker Alan Simpson.
Dounreay's managing director, Mark Rouse, encouraged the new-qualified youngsters to use their "top drawer" skills to get involved with the work left at Dounreay.
"There is ten years of guaranteed work at Dounreay that you can take real pride in being a part of," he said.
"We remain committed to the apprenticeship scheme because it is the life blood of the company."
Alan Simpson, who started as a Dounreay apprentice thirty years ago, recalled his own indenture ceremony as being the beginning of a career full of learning and growth.
"Apprentice training is the best learning programme you can get involved with," he said.
"You get such experience at Dounreay and that is what sets the Dounreay training apart from anything else."
Dounreay's clear commitment to training is evident in the recent framework agreement granted for the provision of manpower to the site.
The agreement, which is worth £90 million and secures over 150 jobs for the local economy, includes a requirement for the provision of apprentices.
The latest apprentices to be taken on by Dounreay start their first year of training at the North Highland College in September.
The eight trainees were chosen from more than 70 applicants.
Published 23 August 2013