News story
Deborah Meaden backs Make it in Great Britain
Well known to the public for her role on BBC's Dragons' Den, Deborah is joining other influential business leaders from across the UK to lend…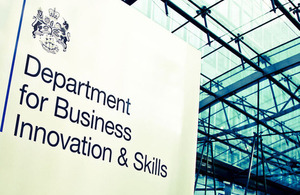 Well known to the public for her role on BBC's Dragons' Den, Deborah is joining other influential business leaders from across the UK to lend her support to the Make it in Great Britain campaign, which aims to challenge negative perceptions of British manufacturing.
Drawing on her long-established career in industry, she will add value to the campaign by offering up her time to take part in public campaign activities.
Deborah will also draw on her credentials as a business leader and owner of British brand and manufacturer Fox Brothers to help raise awareness of how dynamic and interesting modern manufacturing is in the UK.
By joining Make it in Great Britain Deborah brings expertise that will further strengthen efforts to attract the talent and investment that the manufacturing sector needs to thrive.
Business Minister Mark Prisk said:
"I welcome Deborah onboard our Make it in Great Britain campaign. She has an incredible wealth of business knowledge and influence that will complement the roles of our Industry Champions and 30 under 30 young ambassadors extremely well.
"Both Government and industry agree that changing negative perceptions of manufacturing is essential if we are to rebalance the economy, and to attract the next generation of engineering and manufacturing talent.
"I look forward to working with Deborah to raise awareness of manufacturing and the incredible amount of opportunities that exist for jobs and growth."
Commenting on her involvement, Deborah said:
"I'm pleased to be signing up to support Make it in Great Britain. What this campaign is doing is demonstrating to the public how truly exciting and innovative manufacturing is, and highlighting the range of opportunities that exist, particularly for young people.
"As consumers we care more about the finished product, but what we miss out on is the fascinating way in which that product is created. More and more I find myself coming away from visits to businesses and laboratories across the country thinking how impressed I am with manufacturing in this country."
Deborah's involvement in the campaign has been announced as the judges of The Make it in Great Britain Challenge - the competition element of the campaign - prepare to name their chosen finalists. The Challenge was launched earlier in the year to find the most promising and cutting-edge British pre-market products and processes, and closed to entries on 13 April.
The Challenge was open to inventors, manufacturers, engineers, designers, businesses of all sizes, young people and the general public. The Challenge and campaign will culminate in an exhibition at the Science Museum during the Olympic and Paralympic Games.
There the finalists will publically display their creations alongside 40 chosen exhibitors such as Mars, McLaren, Coca-Cola, Axon Automotive Ltd and Ceravision, where together they will celebrate the best of manufacturing in Britain.
The finalists will be announced shortly. To find out more about the Make it in Great Britain campaign, please visit http://makeitingreatbritain.bis.gov.uk/**
Notes to editors:
**About _Make it in Great Britain
1. Make it in Great Britain_ is a campaign that will challenge outdated perceptions and transform the image of modern manufacturing. The Business Secretary Vince Cable and Mark Prisk launched the Make it in Great Britain campaign at a stakeholder event in Central London attended by 150 of Britain's manufacturers and trade associations in November 2011.
For more information about the _Make it in Great Britain _campaign, the Challenge, a list of industry champions and exhibitors at the exhibition this summer visit http://makeitingreatbritain.bis.gov.uk/

To find out more about Deborah Meaden visit http://www.deborahmeaden.com/

BIS's online newsroom contains the latest press notices, speeches, as well as video and images for download. It also features an up to date list of BIS press office contacts. See [http://www.bis.gov.uk/newsroom](http://www.bis.gov.uk/newsroom) for more information.
Notes to Editors
Contact Information
Name BIS Press Office Job Title
Division Department for Business, Innovation & Skills Phone
Fax
Mobile
Email bispress.releases@bis.gsi.gov.uk
Name Andy Aston Job Title
Division Department for Business, Innovation & Skills Phone 0207 215 6963 Fax
Mobile
Published 22 May 2012