Deaths in prison custody 2010
The Ministry of Justice has announced that there were 58 apparently self-inflicted deaths among prisoners in England and Wales in 2010.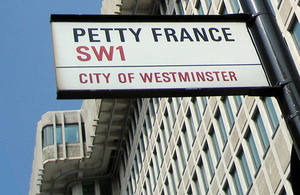 Justice Minister Crispin Blunt said:
'Each and every death is a personal tragedy for those who are left behind. So any reduction in the number of self inflicted deaths in our prisons is welcome news.
'It is important to recognise the good work of all those who continue to care for the most vulnerable prisoners in our custody. The Government remains fully committed to reducing deaths in custody.'
Michael Spurr, Chief Executive Officer for the National Offender Management Service (NOMS) said:
'Every death matters and I am extremely grateful to the staff who work so hard to prevent self-harm and suicide. That the number of self-inflicted deaths has continued to fall is testament to that hard work. Working with vulnerable prisoners to ensure we continue to reduce the number of self-inflicted deaths remains a priority for NOMS in 2011.'
Notes to editors
The numbers of self-inflicted deaths in prison custody can vary considerably. Rises and falls from one year to the next are not good indicators of underlying trends. The most reliable guide to trends is the three-year average annual rate. This currently stands at 71 deaths per 100,000 prisoners and has decreased year-on-year since 2004 when it was 130 deaths per 100,000 prisoners.  It should be noted that the figure of 60 deaths in 2009 has been amended to 61 following the reclassification of a death that was originally recorded as suspected natural causes.
Prisoner 'self-inflicted deaths' include all deaths where it appears that a prisoner has acted specifically to take their own life. Approximately 80 per cent of these deaths receive a suicide or open verdict at inquest.
There are currently 15 'unclassified' deaths where it has not yet been possible to determine the cause of death and therefore classify the death as either apparent self-inflicted, natural causes or other non-natural.  Enquiries have been made with all of the relevant Coroners who have confirmed that their investigation into the cause of death is ongoing.  These investigations include post mortem examination(s), and if necessary a toxicology test and an inquest which will be held into all prison death in custody cases.
Revised Prison Service Order 2700 (Suicide Prevention and Self-Harm Management) was published in October 2007 and implementation was completed in April 2008. Building on several years of learning from the experience of prisoners, staff, investigators, inspectors and others, it incorporates developments such as the introduction of the Assessment, Care in Custody and Teamwork (ACCT) procedures, improved cross-agency information flows, and integrated local Safer Custody Teams pursuing a continuous improvement plan in each prison. Also reflected are long-standing areas of safer custody work such as peer supporters (Listeners and Insiders) and working with outside organisations such as Samaritans.
ACCT is the care-planning system for prisoners at-risk of suicide or self-harm, introduced across the prison estate in partnership with the Department of Health during 2005-07. ACCT aims to improve the quality of care by introducing individual/flexible care-planning, supported by improved staff training in case management and in assessing and understanding at-risk prisoners.  At any one time approximately 1500 prisoners are subject to individualised care planning in line with the ACCT procedures.
The Ministry of Justice announced the creation of a new three-tier Ministerial Council on Deaths in Custody in July 2008.  The new Council officially commenced operation on the 1st April 2009 and is jointly funded by the Ministry of Justice, Department of Health and the Home Office. The three tiers comprise a Ministerial Board, an Independent Advisory Panel chaired by Lord Toby Harris and a practitioner and stakeholder group, which supports the work of the IAP.  The shared purpose of the Board and the Panel is to bring about a continued and sustained reduction in the number and rate of deaths in all forms of state custody in England and Wales by actively enabling cross-government learning.
Learning from deaths in custody is a key part of the prisoner suicide prevention strategy. Since 1 April 2004, all deaths in prison custody have been investigated by the Prisons and Probation Ombudsman, Stephen Shaw. The Ombudsman's investigators and family liaison officers carry out independent investigations which also address any issues raised by the bereaved family.
For more information please contact the Ministry of Justice press office on 020 3334 3536.
Published 2 January 2011