World news story
Death Penalty in Taiwan: A report launched
This was published under the 2010 to 2015 Conservative and Liberal Democrat coalition government
Death Penalty in Taiwan: A report on Taiwan's legal obligations under the International Covenant on Civil and Political Rights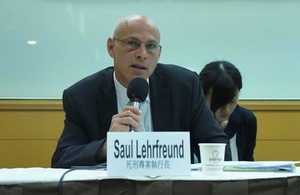 The Death Penalty Project (DPP) and the Taiwan Alliance to End the Death Penalty (TAEDP) held a press conference to launch the "Death Penalty in Taiwan: A report on Taiwan's legal obligations under the International Covenant on Civil and Political Rights" on 5 June 2014 at National Taiwan University. This was the third Asian report after Japan and Malaysia.
Saul Lehrfreund, executive director of the Death Penalty Project, visited Taiwan to attend the press conference. Mr Chris Wood, Director of British Trade & Cultural Office, co-author Professor Chang Wen-chen, Legislator Yu Mei-nu and Judicial Reform Foundation Director Kao Jung-chih were also present.
As this report highlights, the use of the death penalty in Taiwan sends out a message that contrasts starkly with the progressive measures it took to ratify the International Covenant on Civil and Political Rights(ICCPR). One of the most serious concerns is that of wrongful executions.
The DPP and the TAEDP hope this report's conclusion and recommendations can help Taiwanese society to have a greater understanding of the strict limitations applicable when it comes to capital punishment.
For more information, please visit the website at The Death Penalty Project