World news story
Condolence books for Lady Thatcher at our offices in India
British High Commission and its offices open condolence books for Lady Thatcher.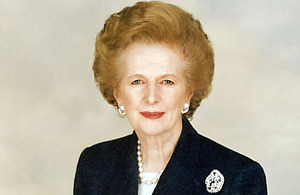 Serving from 1979 to 1990, she was the UK's first female Prime Minister and the longest serving of the 20th century.
Prime Minister David Cameron made a statement at Downing Street yesterday following the death of Lady Thatcher. He said:
Margaret Thatcher didn't just lead our country; she saved our country. And we should never forget that the odds were stacked against her. She was the shopkeeper's daughter from Grantham who made it all the way to the highest office in the land.
Paying tribute to her patriotism, Mr Cameron said:
For many of us, she was an inspiration. For others, she was a force to be defined against. But if there is one thing that cuts through all of this, one thing that runs through everything that she did, it was her lionhearted love of this country. She was the patriot Prime Minister, and she fought for Britain's interests every step of the way.
Speaking to media yesterday the Foreign Minister William Hague said:
It is a very sad day of course for all of us who knew her and followed her. She was one of our finest leaders in the modern history of this country, one of our most remarkable politicians, one of the greatest spirits of this country as well.
She changed British politics, but she also changed things much more broadly than that, she gave real hope and inspiration to people behind the Iron Curtain in the 1980s. Her belief in freedom, in human rights really shone out across the world and, and gave enormous encouragement to people who had been living without political freedom for a long time.
In Downing Street, the Union flag was flying at half mast following the announcement.
The Number 10 website has a condolence page on which people are able to write private messages for the Thatcher family.
It has also been announced that Lady Thatcher will receive a Ceremonial funeral with military honours at London's St Paul's Cathedral.
Lady Thatcher's family have asked that, if people wish to pay their respects, they consider making a donation to the Royal Hospital Chelsea, rather than laying flowers.
The public will be unable to attend the funeral service itself but can line the route of the funeral procession from the RAF Church in the Strand to St Paul's Cathedral.
Notes to Editors:
A Condolence Book at British High Commission, New Delhi, will be open until Tuesday 16 April.
A Condolence Book will be open at the British Deputy High Commission in Kolkata at the following times: Tuesday, 9 April: 1400-1600 hrs; Wednesday, 10 April: 1000-1200 and 1400-1600hrs; Thursday, 11 April: 1000-1200hrs and 1400-1600hrs; Friday, 12 April: 1000-1200hrs
A Condolence Book will be open at the British Deputy High Commission, Chennai 1000-1300hrs from Wednesday 10 April until Tuesday 16 April.
Write private messages for the Thatcher family
Make a donation to the Royal Hospital Chelsea
View full details of Lady Thatcher's Ceremonial funeral
Marcus Winsley, Director, Press and Communications, British High Commission, Chanakyapuri, New Delhi 110021, Tel: 44192100; Fax: 24192411, Mail to: Asad.Mirza@fco.gov.uk, Follow UK in India on Twitter
Published 9 April 2013
Last updated 10 April 2013
+ show all updates
Updated notes to editors to include condolence book at Deputy High Commission in Chennai
Added a point in notes to editors about condolence book at BDHC Kolkata.
First published.