News story
Deadline looms for award entries
Less than a month remains for businesses to submit an entry for the prestigious NDA Estate Supply Chain Awards 2015.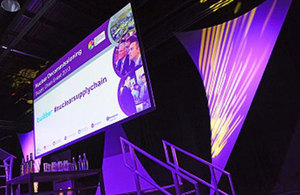 The deadline is 11 September, and entries are being sought for four different categories, including collaboration, innovation and export. All sizes of business are invited to enter, from global corporations to Small and Medium-sized Enterprises (SMEs).
The winners will be announced during the NDA Estate Supply Chain Even at EventCity, Manchester, on 4th November, where the presentations will be a highlight of the morning session.
Meanwhile, almost 1,000 people have already registered to attend the annual supply chain event, either as delegates or exhibitors. Last year, 1,500 visitors enjoyed a day of informal networking and presentations by a range of high-level speakers.
Now one of the largest events of its kind in Europe, the keynote speakers will include: •a senior government minister •NDA Chief Executive John Clarke •Rear Admiral Mike Wareham, Director of Submarines, Ministry of Defence
A central feature in the exhibition hall will be the expanded Innovation Zone, which now has space for more than 40 companies and is being jointly sponsored by the government body Innovate UK. A range of novel and emerging technologies will be demonstrated during the main afternoon networking session.
Visitors, meanwhile, will have opportunities to meet buyers and sellers from around the NDA estate and other government departments, including the MOD and Crown Commercial Service.
Entry for delegates and exhibitors is free of charge, however, a small charge will be made for optional lighting and electrical equipment.
To register, submit an entry for the awards or find out more visit the event website
Award categories
The awards recognise outstanding contributions to the nuclear clean-up mission, and are part of a series of measures to improve the visibility of opportunities for suppliers in the decommissioning sector, particularly for smaller businesses.
Entry categories have been updated for 2015 to bring a stronger focus on exports and technology innovation:
Supply Chain Collaboration
Making a difference by collaborating with other suppliers or organisations.
Technology/Innovation implementation with an SLC
Open to suppliers at all levels, this new category is intended to recognise technical innovations that have been developed and subsequently deployed on a site, following close engagement with an SLC.
SME Innovation
Bringing innovation to a project through technology, processes or systems
NDA Estate Export Award
Successful export of products or services that were originally conceived or implemented in the NDA estate.
Published 14 August 2015