DE historical advisors help to protect cultural heritage
Defence Estates (DE) Historical Advisors are helping British troops to protect the cultural heritage of other nations during operational deployments.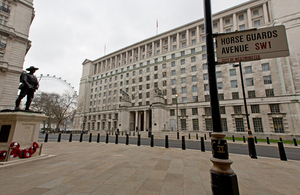 Major Hugo Clarke, who ran the Army's 'Operation Heritage' - which offered assistance to Iraq on the protection of its cultural heritage - is clear about the need for troops to be well-informed on cultural matters in modern operational theatres.
Today, we are operating in a counter-insurgency environment where we are not only fighting an insurgent enemy, but additionally building relationships with the local population. If troops unintentionally show a lack of respect for a nation's culture, they may well alienate the very people who they are there to provide security for.
Richard Osgood of DE's Historic Environment team agrees:
Digging vehicle pits, for example, into material derived from archaeological sites can enrage a local population with ensuing risk to mission – the Americans refer to such damage as being a 'force multiplier'. If people think their local sensibilities are being ignored, there is evidence that this can lead to more successful recruitment for insurgency.
Legislation requires that cultural heritage in theatre is protected, under both the Geneva Convention and the 1954 Hague Protection Bill. This means that ultimately members of the Armed Forces could be prosecuted if they damage items of cultural heritage whilst deployed on operations.
Richard Osgood has created a series of educational case studies exploring such issues as what soldiers should do if they find archaeological artefacts when, for example, digging positions or filling hesco bastions (collapsible wire mesh containers lined with heavy duty fabric, which are filled with sand or gravel and used as temporary barriers).
We are also examining methods of including the cultural heritage agenda within specific training exercises, be it the provision of a 'museum', 'artefact scatter' or similar." he says, "Such regimes are already familiar in the US.
Cultural awareness training has already been delivered to troops as part of major military exercises, including Operation BRIGHTSTAR, a multinational US-led exercise in Egypt.
This year I worked in the team that briefed a Royal Marines contingency participating in the exercise on the importance of respecting heritage," Richard says. "I provided a training package for US soldiers on how to evaluate the World War II battlefield at El Alamein and its historic importance, and what one might do to protect it if this was currently a theatre of conflict.
One of they ways in which troops can unintentionally show a lack of respect for a nation's culture is by acquiring cultural artefacts in theatre – either buying illicit artefacts or picking up artefacts in areas where they are operating.
As Major Clarke points out:
This may well be construed as looting and stealing – shards of pottery, bone knives – such artefacts are all too easily stuffed into a Bergen whilst on patrol.
To illustrate why the 'theft' of historical artefacts could have the direct effect of turning the local population against foreign troops and increasing insurgency, Major Clarke makes a historical comparison:
One only has to look at the reaction that the Nazi's looting in occupied Europe received and to this day still does - and one can only imagine the outrage if a foreign power's military was found to have removed artefacts from the British Museum.
And Richard Osgood points out another connection:
There is evidence from US forces of direct links between money derived from the sale of looted antiquities (either from archaeological sites or from museums) and the funding of insurgencies.
Plans are currently being made to include Afghan cultural heritage features in the Mission Rehearsal Exercises which units participate in before operational deployment.
Major Clark is fully convinced of the benefits:
I believe that there is more awareness of the importance of cultural heritage across the military. Troops now know that they should avoid culturally sensitive sites and prevent collateral damage if at all possible.
Additionally, projects such as Operation Heritage have enhanced the somewhat shaky relationship the military has held with academia. There is still a huge divide between many anthropologists, archaeologists and the military, and this project and others like it, give the opportunity for both sides to converse on how better we could work together in the future.
Published 15 June 2010