World news story
DBT's 30 years of excellence: celebration in partnership with the UK
Since 2008, RCUK India has facilitated an impressive portfolio of joint research between DBT and partner Research Councils in the UK.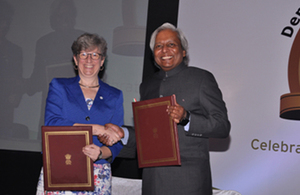 The Department of Biotechnology (DBT), Ministry of Science & Technology, Government of India is celebrating 30 years since its foundation with a series of events leading up to the 30th anniversary of its Foundation Day in February 2016.
One of DBT's key celebratory events in the build up to their Foundation Day was a networking evening in partnership with Research Councils UK (RCUK) India, held on Thursday 19 November 2015 at the British High Commission to showcase the highly successful India-UK collaborative research portfolio.
The DBT-RCUK joint research programmes contribute significantly towards cutting edge research in the areas of life sciences, biotechnology and interdisciplinary research that addresses global challenges – such as food security, energy, health and well-being.
As a step towards taking this partnership forward, Prof VijayRaghavan, Secretary to India's Department of Biotechnology and Professor Jane Elliott, RCUK's International Lead and Chief Executive of the Economic and Social Research Council (ESRC), signed RCUK- DBT letter of intent to work together in climate change and agriculture, antimicrobial resistance and vaccine development. This new initiative was announced during the India Prime Minister's visit to the UK last week and was endorsed by Prime Minster David Cameron and Narendra Modi.
The event brought together senior representatives from the UK and India such as, Prof Sir Mark Walport, Government Chief Scientific Adviser in the United Kingdom, Dr. R. Chidambaram, Principal Scientific Adviser to the Government of India; along with senior researchers and policy makers.
Prof Vijay Raghavan in his key note address commented:
Collaborations between extraordinary scientists such as Dr J C Bose and Sir Walter Raleigh were followed in institutions building udders under the leadership of those such as Homi Bhaba who were trained in the UK. Support by organisations like the British Council and Department of Science and Technology for exchange programmes have led to bonding and exchange of ideas, which then developed into major collaborative programmes. We are moving on those foundations to develop new programmes which India should take up in collaboration with the UK.
Professor Jane Elliott, Chief Executive, ESRC commented:
I congratulate DBT as it completes 30 successful years and continues to build a strong and sustainable research partnership with the UK.

Research and innovation is one of the fastest growing bilateral areas of cooperation between the UK and India. The Research Councils are committed to developing a long-term relationship on research and innovation with DBT to bring mutual benefits to both our nations.
High quality joint research enables the UK and India to find new grounds for strengthening international cooperation. DBT and RCUK continue to work closely in delivering high quality collaborative research in life sciences, biosciences and biotechnology.
Further information
Department of Biotechnology (DBT), Ministry of Science and Technology, is India's nodal organisation for promoting bioscience research and development in the country. It is mandated to promote large scale use of biotechnology, support R&D and manufacturing in biology, support autonomous institutions, promote University and industry interaction, identify and set up Centres of Excellence for R&D, integrated programme for human resource development, serve as nodal point for specific international collaborations, establishment of Infrastructure Facilities to support R&D and production, evolve Bio Safety Guidelines, manufacture and application of cell based vaccines, serve as nodal point for the collection and dissemination of information relating to biotechnology.

Research Councils UK (RCUK) India, launched in 2008, brings together the best researchers in the UK and India through high-quality, high-impact research partnerships. RCUK India, based at the British High Commission in New Delhi, has facilitated co-funded initiatives between the UK, India and third parties exceeding £200 million. The research collaborations are often closely linked with UK and Indian industry partners, with more than 90 partners involved in the research. RCUK India is actively involved in co-funded research activities with seven major Indian research funders on a wide array of research themes addressing global challenges.
For more information please contact Geeny George Shaju or call on +91 01124192637.
Follow us on Twitter, Facebook, Flickr, Storify, Eventbrite, Blogs, Foursquare, Youtube, Instagram, Vine, Snapchat @UKinIndia, Periscope @UKinIndia
Published 20 November 2015