News story
DBS Chief Executive taking on a new role
DBS Chief Executive, Adriènne Kelbie, is to take on a new role at the Office for Nuclear Regulation (ONR).
This news article was withdrawn on
No longer current government policy/activity.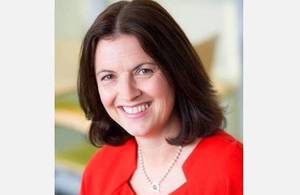 Adriènne has led DBS for over 3 years, and will start her new challenge as the Office for Nuclear Regulation (ONR) Chief Executive in January 2016.
In her time with DBS, Adriènne has overseen great change. Following the initial merger of the Criminal Records Bureau (CRB) and Independent Safeguarding Authority (ISA), she led the development and delivery of new products and services and provided clear strategic direction for the future.
At ONR, Adriènne will work with the board and staff to ensure strong regulation of the nuclear industry as it plays an even greater role in the UK energy market.
Chairman of the DBS Board, Bill Griffiths, said:
"Adriènne's vision, determination and drive have seen us take great strides at DBS. But she never allows anyone to lose focus on our day-to-day purpose to protect the public and keep vulnerable people safe.
"I am personally delighted for Adriènne and congratulate her on this promotion which will provide her with equal challenge and opportunity in this more senior role at ONR. "I hope we will be able to recruit someone with equal drive and ambition."
Adriènne added:
"It has been my absolute privilege to work with DBS staff for over 3 years, and to lead a change programme that has seen it increase its safeguarding reach to protect even more vulnerable adults and children.
"While it has not been an easy decision to leave DBS, I feel the time is right to grasp this new opportunity which has been offered to me.
"Working with the ONR means I will still be in the safeguarding business which is truly rewarding and the main driver for me to continue to work in public service."
Published 28 October 2015