World news story
Day of Diplomatic Workers in Ashgabat
British Ambassador Miss Thorda Abbott-Watt OBE made a speech at the conference titled ¨Diplomacy of the Silk Road: Triumph of Peace, Friendship and Cooperation.¨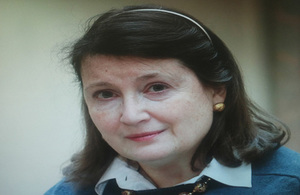 Your Excellencies, ladies and gentlemen,
I am honoured to be given the opportunity to address you on such an important day, though I am not sure it is fair to expect my diplomatic colleagues to have to listen to me. This should be a holiday. They hear me often enough! Or the Foreign Minister, for that matter. He too probably thinks he hears me quite often enough.
This is the year Turkmenistan commemorates its place at the heart of the Silk Road, the most influential network of trading relationships in history. For centuries these interconnecting land and shipping routes linked East and West. They brought goods not just from China, but from the Korean peninsula and Japan. They extended not just westward to Southern Europe but south, around the coast of India to Zanzibar and through the Arabian Gulf to Egypt.
We usually think of the Silk Road as a trading network, transporting merchandise: dates saffron, pistachios, frankincense, and, of course, silk. But it also brought ideas and philosophies, culture and science. It enriched the civilisations through which it passed, and they prospered because of it. Seafaring skills and medicinal plants spread from West to East. The West in turn acquired algebra, astronomy, Arabic numerals, printing and papermaking. And Turkmenistan stood at the centre of this channel of goods and information. Merv was second largest city in the world in the 12th century. Only Kaifeng in China itself was larger.
But your friends here today do not just see a vivid history and a rich cultural heritage. We are looking to the future, a future where the countries of Central Asia are again linked by both physical and metaphorical roads and bridges, a future which once again encourages the permeability of ideas and innovation and people across borders.
There is a change coming to Central Asia. The re-construction of the Silk Road by land and sea is part of this change. And just as the camel trains once marched along the foothills of the Kopet Dag, so your time to be at the centre of events has come again.
My diplomatic colleagues and I each represent our own countries. But we also have Turkmenistan's interests at heart. We commend your plans to expand transport links to your Central Asian neighbours. We commend your contribution to the equitable sharing of regional water resources through your chairmanship of the International Fund for Saving the Aral Sea. We believe that these processes, and the greater openness and understanding they will bring, are the best guarantee of peace and security and prosperity in Turkmenistan. I think all of the countries represented in Ashgabat would like to partner you on the journey you are taking. It is not a one way street. We have much to learn from your understanding of the dynamics of Central Asia from your unique geographical position at the heart of the region.
Your Excellencies, ladies and gentlemen,
I have a final, more personal, message. Britain is, and will remain, a reliable partner and an honest friend to Turkmenistan. We are proud of our European heritage and our common values. That will not change when we leave the European Union next year. As my Foreign Minister, Boris Johnson, said only this week, we will continue to be Europeans both geographically and psychologically: fly over the Channel between Britain and the continent of Europe and you will see how narrow the Channel is. Spiritually, we will remain British and European, but also global. Against that background we will continue to work with you to promote good governance, democracy, the rule of law and human rights. We will continue to support your efforts to prevent and resolve conflict and to build stability, peace and prosperity.
Last year our Prime Minister, Theresa May, pledged that we would become even more "a country that goes out into the world to build relationships with old friends and new allies." Turkmenistan is among those friends, and will remain one.
Published 22 February 2018