News story
David Willetts reappoints Arts and Humanities Research Council chair
David Willetts said: "I am delighted that Sir Alan has agreed to remain as Chair of the Arts and Humanities Research Council until 30 November…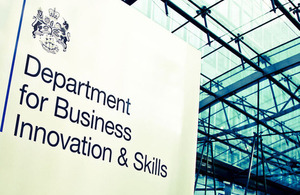 David Willetts said:
"I am delighted that Sir Alan has agreed to remain as Chair of the Arts and Humanities Research Council until 30 November 2015. He is a successful Chair, whose wide experience of research, government and academia will continue to be of great value to the Council.
"Arts and humanities research is essential - it brings meaning and shape to our lives and contributes to some of the fastest-growing parts of the UK economy including new media, design and music."
Sir Alan Wilson said:
"It has been a privilege to be Chair of the Arts and Humanities Research Council for the last four years. I am delighted to be re-appointed and look forward to working with the Council, the staff and the research community in meeting future challenges."
The reappointment is for four years from 1 December 2011.
Notes to editors:
This reappointment has been made in accordance with the requirements of the Code of the Commissioner for Public Appointments.

Sir Alan's first term as AHRC Chair ran from 7 December 2007 to 30 November 2011. His remuneration for this position is £16,430 for on average 24 days per annum. He does not hold any other public appointments. Sir Alan is currently Professor of Urban and Regional Systems at University College London having previously served as Vice-Chancellor of the University of Leeds and as Director-General for Higher Education in the then Department for Education and Skills. He was elected to the Fellowship of the British Academy in 1994 and was knighted in 2001. In May 2006 Sir Alan was elected as a Fellow of the Royal Society.

All appointments are made on merit and political activity plays no part in the selection process. However, in accordance with the Nolan recommendations there is a requirement for appointees' political activity to be made public. Sir Alan has not been involved in any relevant political activities in the last five years.

The AHRC supports world-class research that furthers our understanding of human culture and creativity. Established in April 2005, the AHRC evolved from the Arts and Humanities Research Board, which was founded in 1998. In 2011-12 AHRC will receive just under £100m funding from BIS. See www.ahrc.ac.uk for more information.

BIS's online newsroom contains the latest press notices, speeches, as well as video and images for download. It also features an up to date list of BIS press office contacts. See http://www.bis.gov.uk/newsroom for more information.
Notes to Editors
Contact Information
Name BIS Press Office Job Title
Division COI Phone
Fax
Mobile
Email NDS.BIS@coi.gsi.gov.uk
Name Sally Catmull Job Title
Division Department for Business, Innovation and Skills Phone 020 7215 6577 Fax
Mobile
Published 14 September 2011