News story
David Willetts re-appoints Engineering and Physical Sciences Research Council Chief Executive
Minister for Universities and Science David Willetts said: "I am very pleased that Professor David Delpy has agreed to remain as Chief Executive…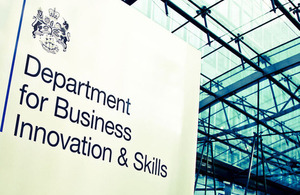 Minister for Universities and Science David Willetts said:
"I am very pleased that Professor David Delpy has agreed to remain as Chief Executive and Deputy Chair of EPSRC for a second term of appointment. He has contributed significantly to the important work of the EPSRC and will continue to play a key leadership role."
EPSRC Chair John Armitt said:
"I am delighted that David is to continue as CEO for EPSRC. David has led the production of the new Delivery Plan for EPSRC and it is excellent news that he will now be able to lead on its implementation."
Professor Delpy said:
"I am delighted to have been re-appointed as EPSRC's Chief Executive. Last year we developed an exciting new strategy for supporting UK engineering and physical science research which will see us adopting a greater sponsorship role and help deliver even more social and economic impact from the excellent long-term research we invest in. I am grateful to have the opportunity to now implement that strategy and to continue to work with the highly talented academics we support in order to sustain and improve the UK's excellent international standing for research."
Professor Delpy's re-appointment is for two years and seven months ending on 31 March 2014.
**
Notes to editors **
EPSRC is the main UK government agency for funding research and training in engineering and the physical sciences, investing more than £850 million a year in a broad range of subjects - from mathematics to materials science, and from information technology to structural engineering. More information about EPSRC can be found at http://www.epsrc.ac.uk/about/Pages/default.aspx.

EPSRC works alongside other Research Councils with responsibility for other areas of research. The Research Councils work collectively on issues of common concern via Research Councils UK. More information about RCUK can be found at www.rcuk.ac.uk/default.htm

Professor David Delpy is the Chief Executive of EPSRC. He took up the appointment on 1 September 2007. Professor Delpy joined EPSRC from University College London, where he was Vice-Provost for Research from 1999. Prior to that, from 1992 to 1999, he was Head of the Department of Medical Physics and Bioengineering UCL.

Professor Delpy's research interests have principally been in the field of physiological monitoring, and especially in the development of techniques for the non-invasive monitoring of tissue oxygenation and metabolism.

BIS's online newsroom contains the latest press notices, speeches, as well as video and images for download. It also features an up to date list of BIS press office contacts. See http://www.bis.gov.uk/newsroom for more information.
Notes to Editors
Contact Information
Name BIS Press Office Job Title
Division COI Phone
Fax
Mobile
Email NDS.BIS@coi.gsi.gov.uk
Name Sally Catmull Job Title
Division Department for Business, Innovation and Skills Phone 020 7215 6577 Fax
Mobile
Published 8 June 2011