David Willetts presents Honorary DBE to Professor Uta Frith
On behalf of Her Majesty the Queen, Minister for Universities and Science David Willetts presents honorary DBE to Professor Uta Frith.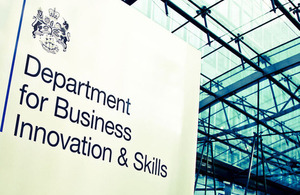 On behalf of Her Majesty the Queen, the Minister for Universities and Science David Willetts today presented an honorary DBE to leading developmental psychologist Professor Uta Frith.
Professor Frith is Emeritus Professor in Cognitive Development at University College London, where she was Professor (1996-2006) and Deputy Director (1998-2006). She is also Guest Professor on the Niels Bohr Project on Interacting Minds at Aarhus University.
Professor Frith is best known for her research on autism spectrum disorders. Her book, Autism, Explaining the Enigma (1989) has been translated into many languages. She was one of the initiators of the study of Asperger's Syndrome in the UK and her work on reading development, spelling and dyslexia has been highly influential.
David Willetts said:
I'm delighted to present Uta Frith with this well-deserved honour in recognition of her outstanding services to the field of psychology.
During a career spanning four decades she has made a major contribution to research on autism and dyslexia. Her work has been hugely influential throughout the scientific, clinical and educational worlds.
Professor Frith's work on theory of mind in autism proposes the idea that people with autism have specific difficulties understanding other people's beliefs and desires. Much of this work was carried out with Simon Baron-Cohen who was her PhD student. She has also suggested that individuals with autism have 'weak central coherence', and are better than typical individuals at processing details but worse at integrating information from many different sources.
Throughout her career she has been developing a neuro-cognitive approach to developmental disorders. In particular, she has investigated specific cognitive processes and their failure in autism and dyslexia. Her aim is to discover the underlying cognitive causes of these disorders and to link them to behavioural symptoms as well as to brain systems. She aims to make this research relevant to the education of people with development disorders and to contribute to a better quality of their everyday life.
Today's ceremony took place at the British Academy in London.
Notes to editors:
Non-British citizens are not entitled to receive their honour from the Queen at Buckingham Palace and are presented with their awards by the relevant Minister instead.
Professor Uta Frith was born on 25th May 1941 in Germany. She completed her undergraduate degree in experimental psychology at the Universitaet des Saarlandes before training in clinical psychology at the Institute of Psychiatry, King's College London. She completed her PhD on autism in 1968. Professor Frith is a Fellow of the Royal Society, the British Academy and the Academy of Medical Sciences. She is Emeritus Professor of Cognitive Development at University College London and Research Foundation Professor at the Faculties of Humanities and Health Sciences, University of Aarhus, Denmark. For more information visit https://sites.google.com/site/utafrith/biography.
The government's economic policy objective is to achieve 'strong, sustainable and balanced growth that is more evenly shared across the country and between industries'. It set four ambitions in the 'Plan for Growth' (PDF 1.7MB), published at Budget 2011: * To create the most competitive tax system in the G20 * To make the UK the best place in Europe to start, finance and grow a business * To encourage investment and exports as a route to a more balanced economy * To create a more educated workforce that is the most flexible in Europe.
Work is underway across government to achieve these ambitions, including progress on more than 250 measures as part of the Growth Review. Developing an Industrial Strategy gives new impetus to this work by providing businesses, investors and the public with more clarity about the long-term direction in which the government wants the economy to travel.
Published 31 January 2013