News story
David Willetts on the Office of the Independent Adjudicator Annual Report
"Students are entitled to the best learning experience, so it is reassuring that there were only a small number of complaints - one for every…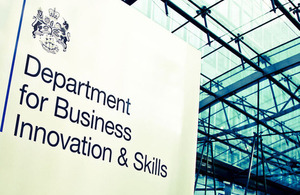 "Students are entitled to the best learning experience, so it is reassuring that there were only a small number of complaints - one for every 2,000 students - received last year, with a small minority of those actually upheld. An effective complaints procedure is one of the ways that universities can better understand the requirements and expectations of students, and I encourage universities to continue to improve their internal complaints processes, and to provide clear information for students.
"The government wants to see universities publishing clearer and more consistent information to students, as stated in the coalition agreement, this includes better information about the costs, graduate earnings and student satisfaction of different university courses."
**Notes to editors:
**1. The Office of the Independent Adjudicator (OIA) is an independent body set up to review complaints from students in English and Welsh universities.
The report can be downloaded from the OIA website at www.oiahe.org.uk
Notes to Editors
Contact Information
Name BIS Press Office Job Title
Division COI Phone
Fax
Mobile
Email NDS.BIS@coi.gsi.gov.uk
Name Michael Gibbs Job Title
Division Department for Business, Innovation and Skills Phone 020 7215 1635 Fax
Mobile
Published 15 June 2010