News story
David Willetts Minister for Universities and Science response to the Office for Fair Access (OFFA) Annual Monitoring Outcome Report
"I am extremely pleased that the latest figures show the take-up rate of bursaries for those eligible is 96% - a considerable improvement since…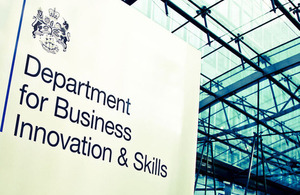 "I am extremely pleased that the latest figures show the take-up rate of bursaries for those eligible is 96% - a considerable improvement since access agreements were introduced. Widening participation in Higher Education is a key aim of the Coalition, and bursaries are one way of achieving this.
"However we must not be complacent. Awareness of bursaries amongst prospective students remains an issue. This report underlines the importance of transparency in providing clear information for prospective students, who can see how universities are meeting their obligations to provide bursaries to those who need them most. All students must have the fullest possible information on which to base their choices and decisions about courses and institutions, including details of the financial support they can expect to receive."
Notes for editors
BIS' online newsroom contains the latest press notices, speeches, as well as video and images for download. It also features an up to date list of BIS press office contacts. See http://www.bis.gov.uk/newsroom for more information.
Notes to Editors
Contact Information
Name BIS Press Office Job Title
Division COI Phone
Fax
Mobile
Email NDS.BIS@coi.gsi.gov.uk
Name Michael Gibbs Job Title
Division Department for Business, Innovation and Skills Phone 020 7215 1635 Fax
Mobile
Published 5 August 2010