News story
David Willetts, Minister for Universities and Science comments on the £330 million investment by AstraZeneca in a new strategic R&D centre and global headquarters in Cambridge
David Willetts comments on AstraZeneca's decision to continue to focus their R&D in the UK,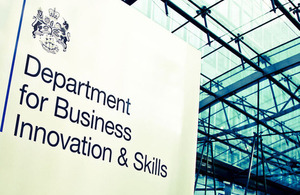 Commenting on AstraZeneca's decision to continue to focus their R&D in the UK, David Willetts said,
AstraZeneca's decision to invest £330 million in a world leading R&D facility in Cambridge is a real vote of confidence in the UK life sciences sector.
They chose to make this major investment in the UK after considering options around the world. Our strategy for life sciences provides a very competitive environment in the UK to conduct highly skilled research keeping us ahead in the global race.
In response to plans for Alderley Park, David Willetts said,
Clearly the decision to reduce R&D activity at Alderley Park is disappointing. But the government will work closely with AstraZeneca and local partners to ensure this excellent facility has a prosperous future with new opportunities for the site.
I have agreed with AstraZeneca and local leaders that a taskforce will be established to coordinate work to support Alderley Park staff and the local economy during the transition. This will work to ensure a sustainable, thriving future for the site. The Taskforce will be jointly led by Chris Brinsmead, the Government's Life Sciences Champion, and Clive Morris, a Vice President of AstraZeneca, alongside local partners.
Notes for editors
1.The government's economic policy objective is to achieve 'strong, sustainable and balanced growth that is more evenly shared across the country and between industries'. It set four ambitions in the 'Plan for Growth' (PDF 1.7MB), published at Budget 2011:
to create the most competitive tax system in the G20
to make the UK the best place in Europe to start, finance and grow a business
to encourage investment and exports as a route to a more balanced economy
to create a more educated workforce that is the most flexible in Europe.
Work is underway across government to achieve these ambitions, including progress on more than 250 measures as part of the Growth Review. Developing an Industrial Strategy gives new impetus to this work by providing businesses, investors and the public with more clarity about the long-term direction in which the government wants the economy to travel.
Published 18 March 2013