News story
David Willetts congratulates winner of Nobel Prize for Economics
"I'm delighted to congratulate Prof. Pissarides on receiving this highest of awards. This is a remarkable achievement which recognises his extremely…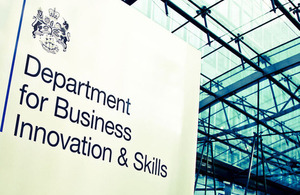 "I'm delighted to congratulate Prof. Pissarides on receiving this highest of awards. This is a remarkable achievement which recognises his extremely important contribution to advancing our knowledge of how unemployment, job vacancies and wages are affected by regulation and policy.
"The UK's Economic and Social Research Council has also played a significant part in supporting Prof. Pissarides' research which is of keen interest to all governments addressing the challenge of stimulating sustainable economic growth."
---
Notes to editors:
---
---
Christopher Pissarides, a professor at the London School of Economics, has won the Sveriges Riksbank Prize in Economic Sciences in Memory of Alfred Nobel 2010 alongside Americans Peter Diamond and Dale Mortensen.

Professor Pissarides is a fellow of the Economic and Social Research Council (ESRC) Centre for Economic Performance, (CEP), at the LSE where he works on the macro programme. Some of his work with Dale T. Mortensen, who shared the Prize, was published as a CEP Discussion Paper in April 1999. He has held a specific research award from ESRC on Agglomeration, Integration & the Macroeconomy.

For media enquiries contact Rachel Clarke, BIS press office on tel: 18002 020 7215 5945 or email: rachel.clarke@bis.gsi.gov.uk

BIS' online newsroom contains the latest press notices, speeches, as well as video and images for download. It also features an up to date list of BIS press office contacts. See http://www.bis.gov.uk/newsroom for more information.
Notes to Editors
Contact Information
Name BIS Press Office Job Title
Division COI Phone
Fax
Mobile
Email NDS.BIS@coi.gsi.gov.uk
Published 12 October 2010