News story
David Willetts congratulates A-Level students
"Congratulations to all those receiving their A-Level results today. I know how hard students have worked to achieve these results. "Students…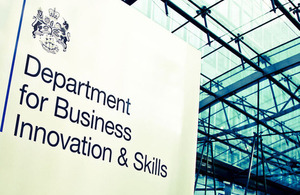 "Congratulations to all those receiving their A-Level results today. I know how hard students have worked to achieve these results.
"Students are benefiting from a more diverse and competitive higher education sector. So there is a good choice of high quality courses. We have also introduced more flexibility into the system by allowing open recruitment of AAB students so that they can access the university of their choice.
"Already more than 350,000 applicants have achieved the grades they need and are now off to university. For those who don't get the results they had hoped for, there are still many other options out there. There are over 25,000 courses with vacancies in clearing so it is worth looking to see what is available.
"Alternatively I would encourage students to consider studying part time or perhaps pursue an apprenticeship. You can also choose to reapply next year. Under our new reforms graduates will have to make a greater contribution towards the cost for their degree, but there will be more generous financial support available while you study and fairer repayment arrangements when you leave university."
**Notes to editors:
**
---
The Government's economic policy objective is to achieve 'strong, sustainable and balanced growth that is more evenly shared across the country and between industries.' It set four ambitions in the 'Plan for Growth' (PDF 1.7MB), published at Budget 2011: * To create the most competitive tax system in the G20 * To make the UK the best place in Europe to start, finance and grow a business * To encourage investment and exports as a route to a more balanced economy * To create a more educated workforce that is the most flexible in Europe.
Work is underway across Government to achieve these ambitions, including progress on more than 250 measures as part of the Growth Review. Developing an Industrial Strategy gives new impetus to this work by providing businesses, investors and the public with more clarity about the long-term direction in which the Government wants the economy to travel.
BIS's online newsroom contains the latest press notices and speeches, as well as video and images for download. It also features an up to date list of BIS press office contacts. See http://www.bis.gov.uk/newsroom for more information.
Notes to Editors
Contact Information
Name BIS Press Office Job Title
Division Department for Business, Innovation & Skills Phone
Fax
Mobile
Email bispress.releases@bis.gsi.gov.uk
Name Emma Griffiths Job Title
Division Department for Business, Innovation and Skills Phone 020 7215 5982 Fax
Mobile
Published 16 August 2012