News story
David Willetts comments on the Office for Fair Access Guidance to Universities
"Universities are being asked to work much harder to recruit students from disadvantaged backgrounds in the future. The Director has moved quickly…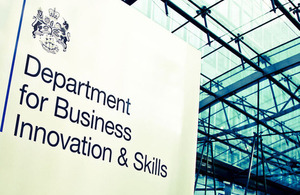 "Universities are being asked to work much harder to recruit students from disadvantaged backgrounds in the future. The Director has moved quickly to give universities clarity about what he expects from them on access.
"The Government has been clear that universities charging more than £6,000 who are not meeting their access benchmarks should redouble their efforts to widen participation. There is a range of good practice across the sector to draw on, as well as the new National Scholarship Programme which the Government is match funding."
Notes to editors:
BIS' online newsroom contains the latest press notices, speeches, as well as video and images for download. It also features an up to date list of BIS press office contacts. See http://www.bis.gov.uk/newsroom for more information.
Notes to Editors
Contact Information
Name BIS Press Office Job Title
Division COI Phone
Fax
Mobile
Email NDS.BIS@coi.gsi.gov.uk
Name Emma Griffiths Job Title
Division Department for Business, Innovation and Skills Phone 020 7215 5982 Fax
Mobile
Published 8 March 2011