News story
David Willetts comments on the launch of Lockheed Martin's major new seabed mining initiative
David Willetts welcomes the award of a licence and contract to explore the Pacific for mineral-rich polymetallic nodules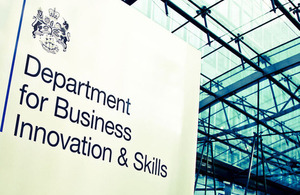 Welcoming the announcement that UK Seabed Resources, in partnership with the Department for Business, Innovation and Skills, has been awarded a licence and contract to explore a 58,000 sq kilometre area of the Pacific for mineral-rich polymetallic nodules, Minister for Universities and Science David Willetts said:
This exciting new partnership between the Government and Lockheed Martin's UK subsidiary demonstrates the best of British. It plays right to our strengths as a world leader in maritime engineering and deep water survey techniques.
Rare earth metals are vital to many new innovations such as mobile phones and low carbon technologies. The UK is well placed to lead this first exploration step which could pave the way for us to be at the forefront of significant new commercial, engineering and economic opportunities.
Notes for editors
1.The government's economic policy objective is to achieve 'strong, sustainable and balanced growth that is more evenly shared across the country and between industries'. It set four ambitions in the 'Plan for Growth' (PDF 1.7MB), published at Budget 2011:
to create the most competitive tax system in the G20
to make the UK the best place in Europe to start, finance and grow a business
to encourage investment and exports as a route to a more balanced economy
to create a more educated workforce that is the most flexible in Europe.
Work is underway across government to achieve these ambitions, including progress on more than 250 measures as part of the Growth Review. Developing an Industrial Strategy gives new impetus to this work by providing businesses, investors and the public with more clarity about the long-term direction in which the government wants the economy to travel.
Published 14 March 2013