News story
David Willetts comments on the Finch Group report on expanding access to published research findings
**Notes to editors **1. The Higher Education Funding Council for England is currently considering making open access published research the…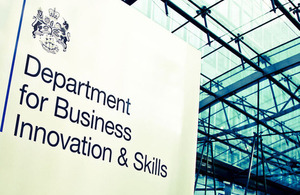 **Notes to editors
**1. The Higher Education Funding Council for England is currently considering making open access published research the basis for the Research Excellence Framework from 2014.
Research Councils issued earlier this year a proposed draft policy for future Open Access of their funded research which is consistent with the Finch Report. The final settled policy details will be released in the coming months.

The report is likely to influence the development of open access policy in Europe and elsewhere including the United States. The European Union is expected to want to move towards open access as the basis of the publication of research under its future Horizon 2020 research programme.

The report's recommendations refer to the future use of article processing charges (APCs), designed to sustain a high quality peer review process and ensure that users have immediate and full unrestricted access to published research findings. UK funding bodies are expected to be in favour of this approach and full details of how APCs will be funded will form part of their future detailed policy considerations.

BIS's online newsroom contains the latest press notices, speeches, as well as video and images for download. It also features an up to date list of BIS press office contacts. See http://www.bis.gov.uk/newsroom for more information.
Notes to Editors
Contact Information
Name BIS Press Office Job Title
Division Department for Business, Innovation & Skills Phone
Fax
Mobile
Email bispress.releases@bis.gsi.gov.uk
Name Sally Catmull Job Title
Division Department for Business, Innovation and Skills Phone 020 7215 6577 Fax
Mobile
Published 19 June 2012