News story
David Willetts comments on the development of new foot-and-mouth vaccine
David Willetts comments on the new methodology developed at the Diamond Light Source and The Pirbright Institute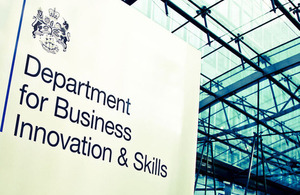 Welcoming the announcement on the new methodology developed at the Diamond Light Source and The Pirbright Institute, Minister for Universities and Science David Willetts said:
This is a great achievement for UK researchers. I congratulate the scientists at Diamond, The Pirbright Institute and the Universities of Oxford and Reading for a technology that allows foot-and-mouth vaccines to be produced more safely and easily. The new approach could also revolutionise how vaccines for similar viruses, such as polio, are produced.
Notes to editors:
1.For more information on the announcement please contact:
Diamond Light Source Isabelle Boscaro-Clarke, Head of Communications Tel: +44 (0) 7990 797916 Email: isabelle.boscaro-clarke@diamond.ac.uk
The Pirbright Institute Zoe Williamson, Communications Officer Tel: +44 (0) 7710 579261 Email: zoe.williamson@pirbright.ac.uk
2.The government's economic policy objective is to achieve 'strong, sustainable and balanced growth that is more evenly shared across the country and between industries'. It set four ambitions in the 'Plan for Growth' (PDF 1.7MB), published at Budget 2011:
to create the most competitive tax system in the G20
to make the UK the best place in Europe to start, finance and grow a business
to encourage investment and exports as a route to a more balanced economy
to create a more educated workforce that is the most flexible in Europe.
Work is underway across government to achieve these ambitions, including progress on more than 250 measures as part of the Growth Review. Developing an Industrial Strategy gives new impetus to this work by providing businesses, investors and the public with more clarity about the long-term direction in which the government wants the economy to travel.
Published 27 March 2013