News story
David Willetts comments on Nobel Prize Winner 2010 Robert Edwards
"I am delighted to congratulate Robert Edwards on this outstanding achievement. This is a proud day for Professor Edwards and for the whole …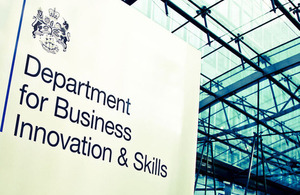 "I am delighted to congratulate Robert Edwards on this outstanding achievement. This is a proud day for Professor Edwards and for the whole country.
" His achievements in IVF research have brought hope and happiness to millions of families around the world. The transition of IVF from experiment to practical medicine represents a major milestone in modern medicine, bringing tangible benefits to people's lives.
" This prize demonstrates the immense contribution UK researchers bring to science and should act as an inspiration to the next generation of scientists, who can help to secure our world lead in science and technology."
Notes to Editors**
BIS' online newsroom contains the latest press notices, speeches, as well as video and images for download. It also features an up to date list of BIS press office contacts. See http://www.bis.gov.uk/newsroom for more information.
Notes to Editors
Contact Information
Name BIS Press Office Job Title
Division COI Phone
Fax
Mobile
Email NDS.BIS@coi.gsi.gov.uk
Name Lucy Bell Job Title
Division Department for Business, Innovation and Skills Phone 020 7215 5361 Fax
Mobile
Email Lucy.Bell@bis.gsi.gov.uk
Published 4 October 2010