News story
David Willetts appoints Student Loans Company non-executive director
The new SLC non-executive director is Robert Kennedy, Director of Finance at the University of Dundee. The appointment replaces Jane Hanson…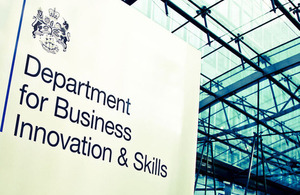 The new SLC non-executive director is Robert Kennedy, Director of Finance at the University of Dundee.
The appointment replaces Jane Hanson, recruited in March, who was unable to take up the position due to other work commitments precluding her from attending the Board's prearranged meetings.
David Willetts, Minister for Universities and Science, said:
"With the invaluable expertise in the fields of financial audit and risk management that Robert brings, this appointment will further strengthen the management of the Student Loans Company."
The appointment to the SLC board was made with Michael Russell, Cabinet Secretary for Education & Lifelong Learning in the Scottish Government and in accordance with the code of practice for the Office of the Commissioner for Public Appointments.
Notes to Editors
1) Robert Kennedy will be appointed for three years from 25 June 2010:
Mr Kennedy is a qualified chartered accountant by profession with experience in both the public and private financial sector. He is currently Director of Finance at Dundee University and a Director of APUC (Advanced Procurement for Universities and Colleges). Prior to that he was a Finance Director at Scotbeef (where he was a board member) and Group Finance Director at Gamma Holding Filtration Division (as part of the management board). Mr Kennedy also spent 3 years working for PricewaterhouseCoopers in management consultancy.
2) The Student Loans Company Ltd is incorporated under the Companies Acts. It has been designated an executive non departmental public body (NDPB) by the Cabinet Office. Its Board is made up of a non-executive Chairman, the Chief Executive Officer, the Company Secretary and Non-Executive Directors.
3) The main functions of the Company are administering the student loans and grants scheme throughout the United Kingdom and, working in partnership with Her Majesty's Revenue and Customs, administering the repayment of student loans
4) All appointments are made on merit and political activity plays no part in the selection process. However, in accordance with the original Nolan recommendations, there is a requirement for appointees' political activity (if any declared) to be made public. The appointee has not been involved in any political activity in the last five years.
5) The non-executive directors attend 11 Board meetings per year and participate in committees of the Board. They are paid a remuneration of £9,000 per annum.
6) Mrs Hanson's appointment was announced on 19th March but she did not take up the offer because her other commitments precluded her from attending the Board's pre-arranged meetings.
7) This press notice relates to England and Scotland.
8) BIS' online newsroom contains the latest press notices, speeches, as well as video and images for download. It also features an up to date list of BIS press office contacts. See http://www.bis.gov.uk/newsroom for more information.
9) For further information please contact Lucy Bell in the BIS press office on 020 7215 5361.
Notes to Editors
Contact Information
Name BIS Press Office Job Title
Division COI Phone
Fax
Mobile
Email NDS.BIS@coi.gsi.gov.uk
Name Lucy Bell Job Title
Division Department for Business, Innovation and Skills Phone 020 7215 5361 Fax
Mobile
Email Lucy.Bell@bis.gsi.gov.uk
Published 28 June 2010