News story
David Willetts appoints new Student Loans Company non-executive director
The new SLC non-executive director is Professor Glynis Breakwell, Vice-Chancellor of the University of Bath. Professor Breakwell said: &ldquo…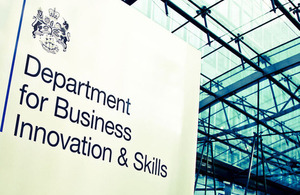 The new SLC non-executive director is Professor Glynis Breakwell, Vice-Chancellor of the University of Bath.
Professor Breakwell said:
"I welcome the opportunity to play a key role in the Student Loans Company at what is a key moment in Higher Education history. I look forward to helping to guide the Company towards providing a more efficient and responsive service to meet the needs of students in this country."
David Willetts, Minister for Universities and Science, said:
---
"With the vast knowledge of the higher education sector that Professor Breakwell has, this appointment will further strengthen the management of the Student Loans Company."
Ed Smith, chair of the Student Loans Company, said:
"I am delighted to welcome Professor Breakwell to the Student Loans Company as a non-executive board member.
"Her expertise from the higher education sector through her own extensive academic career and leadership roles will bring valuable insight to our board."
The appointment to the SLC board was made jointly by English and Scottish Ministers in consultation with Ministers in Wales and Northern Ireland. The appointment was also made in accordance with the code of practice of the Commissioner of Public Appointments (OCPA).
---
Notes to Editors
Professor Breakwell will be appointed for three years from 1 March 2011:
Professor Breakwell is a psychologist with a distinguished academic background specialising in research on leadership, identity processes, risk communication and military cultures.
After her Prize Fellowship at Nuffield College, University of Oxford, Professor Breakwell moved to the University of Surrey where she became Head of the Department of Psychology in 1990 and subsequently Pro-Vice-Chancellor (Research and Enterprise).
She is currently the Vice-Chancellor of the University of Bath, having been appointed in 2001. As Vice-Chancellor, she is both the academic leader and chief executive of the university.
Recently, Professor Breakwell has chaired the Universities UK funding committee (which formulated UUK's response to Lord Browne's independent review of Higher Education Funding and Student Finance) and is a trustee of the Universities Superannuation Scheme responsible for drawing up proposals to restore the Scheme to financial balance.
Professor Breakwell has served as a director, chair or board member for a number of organisations including the Higher Education Career Services Unit. She has also acted as an advisor to a range of government departments, multinational corporations and not-for-profit organisations.
The appointment succeeds Ian Dickson whose second (and final) term as a non-executive director ended on 28 February 2011.
3.The Student Loans Company Ltd is incorporated under the Companies Acts. It has been designated an executive non departmental public body (NDPB) by the Cabinet Office. Its Board is made up of a non-executive Chairman, the Chief Executive Officer, the Company Secretary and Non-Executive Directors.
The main functions of the Company are administering the student loans and grants scheme throughout the United Kingdom and, working in partnership with Her Majesty's Revenue and Customs, administering the repayment of student loans.

All appointments are made on merit and political activity plays no part in the selection process. However, in accordance with the original Nolan recommendations, there is a requirement for appointees' political activity (if any declared) to be made public. The appointee has not been involved in any political activity in the last five years.

The non-executive director attends 11 Board meetings per year, quarterly Board sub-committees, and other ad hoc meetings as required, amounting to a total of 15-20 days per year. They receive an honorarium of £9,000 per annum.

This press notice relates to England, Scotland, Wales and Northern Ireland.

For further information please contact Emma Griffiths in the BIS press office on 020 7215 5982.

BIS' online newsroom contains the latest press notices, speeches, as well as video and images for download. It also features an up to date list of BIS press office contacts. See http://www.bis.gov.uk/newsroom for more information.
Notes to Editors
Contact Information
Name BIS Press Office Job Title
Division COI Phone
Fax
Mobile
Email NDS.BIS@coi.gsi.gov.uk
Name Emma Griffiths Job Title
Division Department for Business, Innovation and Skills Phone 020 7215 5982 Fax
Mobile
Published 11 March 2011