David Sabel on Britain's 'accessible' National Theatre and pushing digital boundaries
In a Foreign Office film launched today, the American Head of Digital Media at the National Theatre talks about Britain's rich theatrical tradition and the country's drive to make theatre accessible to as many people as possible.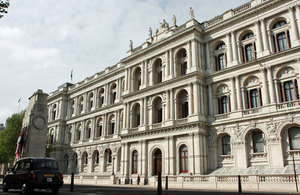 The film is one of the 'See Britain through my eyes' series featuring individuals from abroad talking about their experiences of modern Britain in the run up to the London 2012 Olympic and Paralympic Games.
In his short 'See Britain' film David says theatre often has the reputation of being elitist but argues strongly that this is certainly not the case in the UK. He talks about his admiration for Britain's commitment to opening up theatre to as many people as possible, and how public subsidies for organisations like the National Theatre help ensure ticket prices stay low.
David believes the UK's long and rich theatrical tradition allows places like the National Theatre to draw from a vast pool of talent, ensuring the audiences always see top quality shows. Today's video launch coincides with the first performance of Complicite's ' A Disappearing Number;' the second play in this year's National Theatre Live season.
For the National Theatre Live, selected productions are filmed and then broadcast live to cinemas around the world. This allows the National Theatre to build on its commitment to providing accessible theatre by expanding its audience beyond UK shores. Tonight's performance will be broadcast live from Plymouth to cinemas across Europe and the US. Colleagues at some of our Embassies are using the event to showcase the best of British theatre and wider UK creativity.
The current National Theatre season also includes Frankenstein directed by Danny Boyle and a production of Chekhov's The Cherry Orchard starring Zoe Wanamaker.
David Sabel is originally from Washington DC. He studied as an actor at Northwestern University in Chicago and L'École Jacques Lecoq in Paris before working as a chef for three years. He came to the UK to study for an MBA from Cambridge University in the UK. His dissertation looking at digital opportunities in the arts led him to the National Theatre, where he stayed on to produce the pilot season of National Theatre Live. In September 2009 he was appointed as the Theatre's first Head of Digital Media to develop and co-ordinate its growing digital strategy.
Established in 1963 the National Theatre was conceived as the 'people's theatre', providing a permanent home for the Arts in the UK. The aim at its creation was to open up theatre and expand audiences by demonstrating the arts were not just the preserve of the privileged. This objective remains today, with the Theatre's dedicated team striving expand the minds of its audiences by drawing on new plays and classics from the world repertoire.
Published 14 October 2010