David Lidington sets out UK vision for Europe in Rome
David Lidington, the British Minister for Europe, meets his Italian counterpart in Rome, Minister Enzo Moavero Milanesi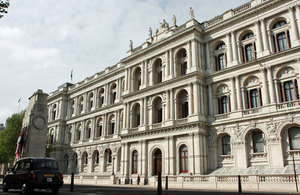 British Minister for Europe, David Lidington, and his Italian counterpart, Enzo Moavero Milanesi, have met today in Rome to talk about some critical issues for both the UK and Italy.
The meeting has given the two Ministers the opportunity to reflect on the European Council outcomes and to prepare for the Council meetings in November and December that will take key decisions on the future of Europe.
In particular, they have talked about strengthening the eurozone, implementing closer integration within the euro area, creating a banking union and harnessing the single market in order to boost the economy.
On the eurozone, the United Kingdom has repeatedly called for robust action to ensure a sustainable, long-term solution to the euro area crisis. It has also always supported the proposal for a banking union for the euro area.
On his arrival in Rome earlier today, Minister Lidington said:
"Having a strong eurozone is as vital for Britain as it is for the whole European Union. We need to harness the single market in order to jump-start the economy as well as redouble our efforts to unlock its full potential.
We were not expecting decisions at last week's European Council summit. The UK's position, though, was made clear: any further integration amongst the eurozone countries must be achieved by respecting and protecting the integrity of the single market and the interests of all EU members.
Just as Europe is changing to meet the challenges of the eurozone, there should be opportunities for other countries, like the UK, to change their relationship with the EU too."
Published 22 October 2012