News story
David Higgins speech – Northern Powerhouse conference, Manchester
Speech given by David Higgins at the Northern Powerhouse conference on 25th February 2016.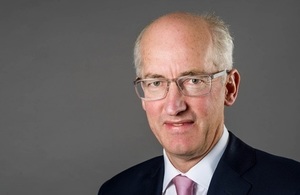 "Two years ago, I launched my first report on HS2 here in Manchester.
It is fair to say that overall confidence in the project at the time was low. While Manchester had quickly recognised its potential, others were less sure – about its relevance, its purpose, its achievability and, above all, whether the price tag was worth paying at a time when money is short.
Two years on, I do not kid myself that everyone is convinced but I do think people are much clearer about why HS2 is in Britain's long term national interest. People are much more aware of the need to rebalance the economy between North and South but also how the increased capacity and connectivity that HS2 will deliver will help achieve that objective.
They are also much more engaged because they can see how HS2 can improve, not just their local transport system, but the economic potential of their area and its attractiveness to outside investment.
The aim is not only to move the needle in the right direction on jobs and growth, but provide a new long term platform for new sectors and specialisms to thrive in regenerated cities – not to create a few short term jobs, but to help talent flourish in the knowledge economy of the future with the opportunity for sustainable, rewarding careers. A short term investment is putting a coin in the meter. You will have to do it again pretty soon.
The aim of an investment the scale and longevity of HS2 is for it to generate its own power, its own momentum – the ability to strengthen the building blocks on which innovation, enterprise and talent can grow and multiply.
The aim is not a temporary fix but a permanent change. That is the catalytic effect HS2 can help build across Britain.
Helped by the resurgent move towards devolution, local authorities and enterprise partnerships up and down the country are taking ownership of their future and using HS2 as a driver for future development. In Derby, the Council Leader put it this way: if HS2, he said, was the catalyst for change, then devolution was the glue that would help regions make sense of that change.
So, in the East Midlands, we have seen Derby and Nottingham bring the wider region together to promote Toton, not just as a new transport hub for the region, but also as an investment location in its own right.
In Leeds, we have seen the city, the region and the Chamber of Commerce come together and agree the location of HS2 services and how they link with the existing station to form the Yorkshire hub.
In this city, just as it was the first to embrace and visualise the potential for HS2, it was the first to sign up to a devolution deal.
Taking local powers over transport and planning will be critical to maximising the benefits of HS2 to the city and, in turn, realising the ambition for growth in new sectors like life sciences and high tech materials – maybe graphene from Manchester can transform the next generation of high speed trains?
Down the road, Crewe and Stoke on Trent have come together with Staffordshire and Cheshire to form the Northern Gateway: a strategic approach to maximising the new connectivity that HS2 will bring to the North West to attract investment in new homes and new jobs. And Rachel Bailey, the Leader in waiting in East Cheshire, says that approach is already being felt in Crewe with pupils now motivated to acquire new skills for the future.
As for the West Midlands, Birmingham is already changing before our eyes a decade in advance of the first train arriving at Curzon Street (which is already a focus for relocating companies and new property developments) while UK Central is beginning to live up to its name, linking the airport, the NEC, the business park and HS2, with plans for thousands of new homes.
And, in London, the discussion has begun about the future of Euston and Old Oak Common – the question again has changed from why, to how HS2 can act as a catalyst for change.
Those of you travelling home from London to the Eastern side of the Pennines have landmark modern stations in St Pancras and Kings Cross to begin your journey, as indeed do your visitors, customers and investors.
Those of you on the Western side of the Pennines know that Euston cannot be redeveloped quickly enough.
HS2 is already changing Britain.
And, today, we are publishing a small brochure setting out at least some of the many different ways that is happening – not because we regard HS2 as a done deal. It is not – we still have to get Parliament to pass the bill for Phase One and get to grips with finalising the route for Phase Two.
Rather, we think people will recognise the progress we have collectively made – and the hopes and aspirations that are now invested in the project – not just by us, or local authorities, but private business too.
One example, for me, says it all – and forgive me if I take it from the other side of the Pennines.
Burberry is a global brand. It could go anywhere but it is rooted in the North and, by choosing Leeds as its new headquarters, it is making a global statement about its confidence in the future of the area. HS2 was part of that decision even though it is, currently, not due to open in the city until 2033.
That is strategic thinking. But it is not just private business – and local authorities – that are thinking more strategically. It is central Government as well. As I was reminded all too painfully recently, the failure by successive Governments to think strategically about transport has left us with a creaking infrastructure.
I had spent the day in Edinburgh and was looking to get back to London. But high winds were disrupting flights into London because they had to leave more room between landings and capacity constraints meant cancelling flights was the only way to do that.
The wind had also brought down the wires on the East Coast Mainline because, as a cost saving measure, they increased the distance between the poles when they put them up. Meanwhile, the West Coast Mainline was shut north of Carlisle because flooding had damaged the bridge at Lamington. Short term savings on capital investment, time after time, have cost this country dear – cost it in terms of reliability of service and therefore economic potential.
But, I have detected an increasing recognition of that in the last two years and a sense that it must not be allowed to continue – and that has worked to the huge advantage of HS2. We have already seen, in the redevelopment of Manchester Victoria and Birmingham New Street, a clear message that what we put up with before and for so long is just not acceptable anymore. Likewise, with people travelling on the infamous Pacers or sat on slow services across the Pennines, we should not have to get used to this. If you have not yet been, I recommend you go to Manchester Victoria to see how a 19th Century station can be in the 21st Century.
Devolution means you no longer have to expect others to get around to improving it which is always a long wait. It means you can get on with it.
When I delivered my first report here in the spring of 2014, I was fully aware that there were many who, while reluctantly conceding the need for extra capacity on the London to Birmingham section, did not accept the case for going further North.
That is why I produced my second report six months later. I went back to basics and looked at why better connectivity, as well as extra capacity, was essential if the Midlands and the North are to compete in the modern, knowledge economy – and Britain was to re-balance to the benefit of both London and the rest of the country. That analysis chimed with that of leaders here and across the North as well as the Chancellor's Northern Powerhouse concept. That has now been translated into Transport for the North which is gaining institutional muscle by the day.
The East and West Midlands have followed with the creation of Midlands Connect spurred on by the prospect of a 17 minute journey time between Birmingham and Toton. Try doing that journey today. At last, the Midlands can begin to think about operating as one region.
And the creation of the National Infrastructure Commission means that these developments in transport are taking place in a much more strategic framework. I subtitled my second report: from HS2 to a national transport strategy. That no longer seems such a distant dream.
But, if central Government, local government and private business are all being strategic in their approach, it is time for the infrastructure industry to catch up. We, too, need to be more strategic.
If you compare the industry in this country to that in other leading economies it is: more fragmented, contains multiple layers with all that implies for overhead costs and coordination issues, operates on lower profit margins and, therefore, invests less on up-skilling its workforce and introducing new technology which impacts labour costs.
That has been the conclusion of report after report into the British construction industry.
The industry can, rightly, say that the country has got the infrastructure industry it deserves because of the lack of consistent investment in the past. Stop / go has led to a lack of a consistent, long-term pipeline of work against which to invest.
No more. HS2 and Hinkley – both point to a consistent pipeline stretching into the future. The context is changing and it is time to recognise that the way we have always done it before just is not up to the job – and the industry needs to respond, and respond quickly.
HS2 will take nearly two decades to build. And we are determined to build it in the most cost effective and efficient way possible. But, to do that, we have to distinguish between those costs that are integral to what we are trying to achieve and those which reflect our history of stop / go construction.
Critical to that is understanding what we are trying to achieve and the physical context in which we are trying to do it.
Our goal is to help rebalance the British economy by making it as easy to achieve the critical mass of skills, talent and creativity in the Midlands and the North as it is in London. Increasing capacity and improving connectivity is the key to that.
That is why we will not just run trains between our largest cities, but have intermediate stops as well. Why we will have stations at Birmingham interchange, Crewe, East Midlands, South Yorkshire
and Manchester airport as well as in Birmingham itself, Leeds and here at Piccadilly.
Those intermediate stations are key to improving intra-regional connectivity as much as the services to London. The other factor we have to take account of is our physical inheritance from the Victorians. Elsewhere, high speed trains can use existing lines and platforms to go into stations because they were built with wide entrances.
Because we were first and the land around stations was highly valued, our entrances tend to be narrow and the stations themselves tend to be quarts squeezed into pint pots.
False savings by one generation robs the next generation of the full value of the nation's investment. We have paid a price for that short-termism and we should not ask the next generation to pay that price again. Political leaders on all sides, I think, recognise that and that is why we have had bi-partisan support at both national and a local level – support I do not in any way take for granted.
But, precisely because of the effort politicians and leaders have made to form a consensus behind HS2, that places a particular responsibility on us to address those factors where we can make
savings and operate more efficiently and effectively to deliver the project on budget.
And those factors reflect the overall weaknesses of the infrastructure industry in this country: fragmentation, multiple layers, lack of coordination between design and construction, a failure to invest in skills and technology – factors which have been highlighted time and time again in sector after sector in the British construction industry whether what is being built is a railway, a hospital or a supermarket.
The problem applies to the UK infrastructure industry as a whole and it is that we must address.
HS2 can be, not only the catalyst to help rebalance the country, but the catalyst we need to transform how we deliver infrastructure. As a project that will help restructure our supply chain, build the technical and project skills we need and bring financing and approval processes up to date. It is an investment in a lower cost base and more efficient and productive industry in the future.
Britain will not have the infrastructure it needs to sustain a competitive economy for the coming century if it holds back from making these changes now. Just as a short term investment in one of our cities can only promise a short term return, we can only rebuild Britain's world-class capability in infrastructure with a large scale intervention that forces the current system to realign to.
Some issues, such as the need to invest in skills, are issues we are already beginning to address with the establishment of the Skills College in Birmingham and Doncaster. But others are issues we can only address by working with the industry.
As a twenty year project, we have no excuse not to become more stream-lined in our approach and not to innovate.
What that means in practice is
Early contractor involvement to drive innovation and efficiencies in design and methodology;
Adopting enabling works contracts to clear the line of route ahead of the main civils works;
Incentivising companies to out-perform;
Adopting techniques new to this country such as linear construction which uses the newly constructed route as a supply chain access.
It also means applying the lessons of Phase One to Phase Two so gaining the benefits of continuity, without additional set-up costs, that high speed networks elsewhere have been able to take for granted for decades. HS2 is a unique opportunity for this country and this industry.
In the past two years since I launched my first report in this city, political leaders at Westminster and in local government, as well as those who serve them, have seized that opportunity to provide the kind of visionary and consistent leadership the infrastructure industry has always craved.
Now it is time for us to repay that commitment by showing Britain that we can deliver in a cost effective and sustainable way – a way that will allow the next generation in Britain to fulfill their full potential, no matter where they are born and choose to work."
You can view the report here: https://www.gov.uk/government/publications/hs2-changing-britain
You can read the press release here: https://www.gov.uk/government/news/david-higgins-hs2-already-changing-britain
Published 25 February 2016