David Green new director of Serious Fraud Office
New SFO director David Green will take up his post in 2012.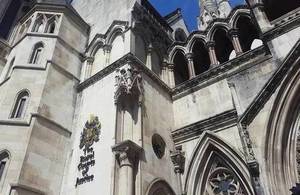 The Attorney General, Dominic Grieve QC MP, has agreed to appoint David Green CB QC as the next Director of the Serious Fraud Office.
David Green will take up his appointment when the current Director, Richard Alderman, steps down in April 2012. His appointment is for 4 years. The appointment follows an open competition.
Dominic Grieve said:
I welcome David Green's appointment to this key post. He joins at a challenging and exciting time for the Serious Fraud Office. The government is committed to a better and more coordinated approach to economic crime and is putting the structures in place to effect this. The SFO will play an important role in this new strategy, working with Economic Crime Command partners and energetically pursuing the corruption and fraud which cause so much damage to victims, to law abiding competitors and to the UK's wider economy and reputation.
I would also like to pay tribute to Richard Alderman. The SFO has been transformed under his leadership, becoming more effective, proactive and pragmatic. Richard has also pursued positive engagement both domestically and internationally and leaves the organisation more influential and outward facing.
David Green said:
The SFO is here to stay, and I am delighted to accept the Attorney's offer of a 4-year contract as Director. The SFO harnesses all the specialist skills needed to tackle serious and complex fraud and bribery under one roof. Its cases have a high profile and a major public interest element. It is recognised as a major national and international agency and brand.
Importantly, it will contribute to our economic recovery by working to ensure a level playing field in the markets and underpinning the maxim 'my word is my bond'. Over the next few years, the SFO will play a crucial role in the developing anti fraud strategy.
Published 16 December 2011