News story
David Davis travels to Brussels and Strasbourg
In the first of a series of visits across the EU, David Davis is holding bilateral meetings in Brussels and Strasbourg this week with key figures as the UK Government prepares for the formal triggering of Article 50.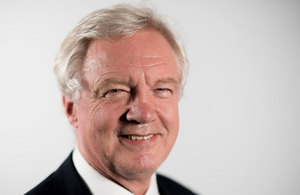 The meetings will not seek to open negotiations, which will only begin after Article 50 is triggered, but to lay the ground for a constructive dialogue and a smooth and orderly exit which is in the interests of all parties.
Today (Monday, 21 November) the Secretary of State paid a visit to the UK Representation to the European Union and tomorrow he will have further meetings with key figures in Strasbourg.
He is expected to use the visit to signal his determination to approach negotiations in a spirit of goodwill and seek an outcome to the mutual benefit of the UK and the European Union once we have left.
David Davis, Secretary of State for Exiting the European Union, is expected to say:
I want to begin the work of ensuring we have positive, strong, and productive relationship with our closest neighbours.

The people of the UK have made a clear decision to leave the EU, and that is one the Government will respect and implement.

But Britain will continue to be the same outward-looking country that it has always been.

I am confident that by working together we will be able to secure a deal that works in the mutual interests of the UK and the rest of the European Union.
The visit by the Secretary of State comes ahead of the Prime Minister's second European Council meeting next month and will build on the cross-government work already done to prepare for exit negotiations.
Published 21 November 2016