Press release
David Davis chairs roundtable with business leaders
The Secretary of State for Exiting the European Union met UK professional and business services leaders to hear views on the Brexit negotiations.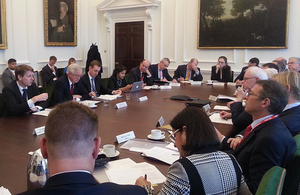 The Secretary of State chaired the meeting alongside ministers Robin Walker and Lord Bridges, engaging with business and industry stakeholders to ensure their views and experience help to inform the UK's negotiation strategy.
A British success story, the professional and business services sector includes the legal, advertising and accountancy industries. The sector is worth £177 billion and grew by 5% between 2014 and 2015. It is the single largest exporter in Britain and accounts for 13% of all jobs in the UK.
Among the topics of discussion were the terms of trade for services once the UK has left the EU, the movement of skilled workers and opportunities to increase the sector's global competitiveness in future.
The Secretary of State for Exiting the EU, David Davis said:
The government is committed to making sure that the UK remains the best place in Europe to run and grow a business, and having a strong professional services sector is key to doing that.

As well as challenges to overcome there will be numerous opportunities to seize as we leave the European Union. Capitalising on the expertise of industries that service British businesses is crucial as we approach our negotiations and by working together I am confident we will get a deal that protects and promotes enterprise in the UK.
Chief Executive, Business Services Association, Mark Fox said:
Our industry is one of the most productive in the UK and we will continue to support businesses and encourage investment in Britain throughout the Brexit process.

Today's discussions were a productive step in our continued positive engagement with government. We will continue to work with DExEU to ensure that businesses who have come to rely on the UK for important services continue to do so going forward.
By engaging with business leaders and key stakeholders both through roundtables and regional visits, the government is building a national consensus on the approach to the negotiations and and the UK's future relationship with the EU.
Board-level executives from the following businesses and associations were present at the event:
Advertising Association
Arup
Bar Council
Business Services Association
Capgemini UK
Deloitte
EY
Freshfields Bruckhaus Deringer
ICAEW
Jones Lang Lasalle
KPMG
Law Society
Law Society of Scotland
Management Consultancies Association
PwC
Royal Institute of British Architects
TheCityUK
The Zygos Partnership
Published 27 October 2016