World news story
David Cameron: UK-Italy bilateral relations are strong
Enrico Franceschini, UK correspondent for La Repubblica, talks to David Cameron on relations and policies between the two countries.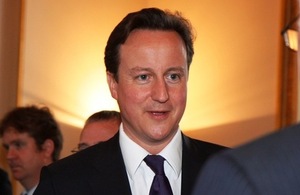 1. How do you see Italy today in the hands of a coalition government of center-left and center-right forces and what is the state of bilateral relations with Italy?
Britain's relationship with Italy is one of the strongest and deepest we have. Whether it is our partnership through the EU, our military co-operation through NATO, our great history of trade and investment or the many cultural ties we share, it is not just a relationship between governments, it is a relationship between our peoples too. Our shared interests transcend party politics and the changing patterns of our politics.
2.What was your impression of Prime Minister Enrico Letta when you met him at the G8 summit and what are you specifically looking for in the meeting with Letta?
I have been greatly encouraged by my initial conversations with Prime Minister Letta on the phone, in Brussels and at the G8 Summit in Lough Erne last month. He has already shown himself to be a practical and constructive partner. In his contributions at the G8 he showed strong leadership on Syria and Libya. He has a very positive attitude towards Britain and our place in Europe. And he shares my view on the importance of budget consolidation as an essential step to achieving growth.
So our personal co-operation has started well but I very much look forward to getting to know him better and to deepening our partnership across a broad shared agenda. In our meeting in Downing Street today I want to discuss how we can work together to make Europe more flexible and more competitive in the global race; how we can support stronger trade and investment links between our countries; and how we can advance our shared priorities of peace, democracy and stability in Egypt, Syria and Libya.
3. Do you feel the global economy has started to recover, particularly in Europe?
There has been important progress in the global economy and through some of the steps that have been taken in the Eurozone. But the European Union still faces a fundamental economic problem – and that is a crisis of competitiveness that is undermining Europe's chances in the global race.
4. It is difficult to explain Britain's euroscepticism to Italians. We fondly remember Britain as the country that saved Europe in WWII, many Italians are fervid anglophiles in love with everything that is British and many of us think Europe would not be Europe without the UK. How would you respond to this and what is the purpose of the planned referendum on the EU?
There is a gap between the European Union and its citizens which has grown dramatically in recent years. This represents a lack of democratic accountability and consent that is - yes - felt particularly acutely in Britain. In fact, I would go as far as to say that right now, democratic consent for the EU in Britain is wafer-thin.
I am not an isolationist. And Britain remains an open and globally-engaged country. But if we don't address these challenges, the danger is that the European Union will fail and the British people will drift towards the exit. I do not want that to happen. I want the European Union to be a success. And I want a relationship between Britain and the EU that keeps Britain in it.
So my approach is not to shy away from these problems and somehow pretend they don't exist, but rather to address them head-on. In January I set out a vision for a European Union that is more open, competitive and flexible, and that thinks more about the cost that it is putting onto its businesses, particularly small businesses. I also argued for a European Union that is fairer and more democratically accountable, where powers flow back to Member States and not just away from them. I believe such a European Union would be better for all its Members and that is what I hope that Prime Minister Letta and I can work together to achieve. Prime Minister Letta has made clear he wishes to see a leaner and more efficient EU which delivers for its citizens. I am confident that there is much common ground on which we can work together.
5. The crisis in Egypt creates a dilemma for Western democracies: what should be done if Islamist parties win elections after the Arab Spring but then prove themselves unpopular and unable to govern?
Frankly, that's democracy. Isn't it better for an organisation to be tested (and found wanting) in a fair process, than to be left underground and able to claim victim status?
I believe that, over the long-term, democracy is the best guarantee of stability in the Arab world. That means not just elections, but the building blocks of proper democracy and the institutions on which it depends, including the rule of law, protection of minorities, a free media, action against corruption, and proper place for the military in society. This is a better basis for prosperity and security than narrowly-based, undemocratic regimes where people's aspirations are suppressed.
Two years ago, the Egyptian people ended 50 years of dictatorship by demanding a real democratic voice, and an economy that delivers jobs not corruption. So far their leaders - on all sides - have failed to deliver this. But this aspiration for a better Egypt won't go away. It's vital that all sides rise above self-interest, shun violence, and start to deliver the proper democracy and economic progress Egyptians deserve.
Of course, the transition to proper democracy is a long and sometimes difficult process, especially in a region where the relationship between religion and politics is hotly debated. But that does not mean we should give up on democracy or somehow conclude that democracy doesn't work in some parts of the world. We must judge people, including Islamists, by their readiness to embrace peaceful, democratic politics and by what they do in office - whether they deliver proper democratic and inclusive political processes and the economic reform people want. If they fall short it is important that they can be removed by a democratic political process. We do not support military intervention in a democratic political process. Egypt needs a genuine democratic transition to take place, and all parties need to be involved in that. That is what Britain, Italy and our allies will be saying very clearly to the Egyptians.
6.Your support of gay marriage, the green economy and a "Big Society" has changed the perception of what a center-right party is. Do you believe the old divisions between right and left are changing and what – in a nutshell – is your view of a modern conservative?
I have always tried to ensure that the Conservative Party I lead is an outward looking and compassionate party. We prioritise the issues that the public prioritises - turning round the economy, making sure the welfare system supports and promotes work, and protecting spending on important areas like the National Health Service. It's what has been called in the past the 'common ground' and it's not about being right wing or left wing, it's about being where the British people are. Being a modern Conservative means helping those who want to work hard and get on, ensuring that everyone can realise their aspirations, be it doing well at school, getting a good job or owning their own home. Only by doing that will we be able to win in the global race. To me it is natural for Conservatives to support green policies – we should care about the environment we pass on to our children. Promoting a bigger, stronger society should also be natural for the centre right - after all, we don't want a bigger, stronger state!
Published 17 July 2013