David Cameron signs historic deal granting Scottish referendum
PM signs deal with Scotland's First Minister today granting Holyrood the power to hold a historic referendum on independence.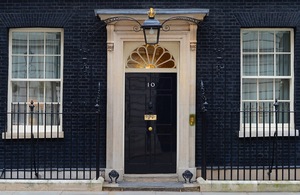 Speaking in Edinburgh, Mr Cameron said :
This marks the beginning of an important chapter in Scotland's story and allows the real debate to begin.

It paves the way so that the biggest question of all can be settled: a separate Scotland or a United Kingdom? I will be making a very positive argument for our United Kingdom.

It is now up to the people of Scotland to make that historic decision. The very future of Scotland depends on their verdict. It is that important. This agreement delivers the people's referendum.
David Cameron met Alex Salmond in Edinburgh where both leaders signed the agreement permitting the referendum, expected to be held in autumn 2014.
Today's landmark event is facilitated by a technical measure known as a Section 30, which passes power from Westminster to Holyrood to legislate on the referendum.
Prior to signing the agreement, the Prime Minister visited Rosyth Dock Yard in Fife to see progress being made building  new Queen Elizabeth Class aircraft carriers. Read the Prime Minister's speech to Rosyth Dock Yard workers and apprentices.
Published 15 October 2012