David Cameron launches new government volunteering scheme
The Prime Minister launches International Citizen Service, a new Government volunteering scheme to help young adults across the UK the opportunity to travel to developing countries to join the fight against poverty.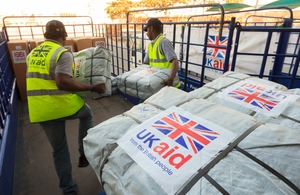 Thousands of young adults across the UK are to be given the opportunity to travel to developing countries to join the fight against poverty, thanks to a new government volunteering scheme launched today by the Prime Minister.
International Citizen Service will focus mainly on 18 to 22 year-olds, who will work on projects aimed at improving the lives of some of the poorest people in the world.
The level of help provided will be means-tested, ensuring a wide spectrum of participants, and there will also be opportunities for older applicants. The experience will be designed to broaden horizons, develop new skills and foster self reliance.
Young volunteers will work on social action projects for three month periods, in some places alongside older volunteers on longer placements.
Examples of projects which volunteers could be involved in include:
Youth projects to tackle HIV/ AIDS in South Africa;
Supporting carers in orphanages in Haiti;
Providing assistance in primary schools in Ghana;
Carrying out environmental conservation work in Bangladesh.
The Prime Minister said:
"Today I can announce International Citizen Service, to give thousands of our young people, who couldn't otherwise afford it, the chance to see the world and serve others. Last century, America's Peace Corps inspired a generation of young people to act, and this century I want International Citizen Service to do the same thing."
Kathy Peach, Head of External Affairs at VSO said:
"We're pleased that the government has recognised the vital contribution that volunteering plays in tackling poverty. We hope that this scheme will enable young British volunteers to work together with young people from developing countries to help build a fairer world."
"To end poverty we need to harness the passion, skills and knowledge of young people all over the world. International Citizen Service is a call to action for the Live8 generation to make a practical contribution to this fight against global poverty."
The programme also recognises the contribution that people at the end of their career can make. Often these people have skills and experience that are in high demand in developing countries.
This will also give an opportunity for some young people to work alongside older and more experienced volunteers, receiving mentoring and support.
On their return to the UK all volunteers will be helped and encouraged to share their experience with local groups, to tell others about the challenges and importance of development work.
The cost of the placements will be means tested so that the scheme can provide opportunities to a wide spectrum of people from all backgrounds. In the pilot year (2011/12) places will be offered to 1,000 young people and to 250 more experienced older people. An evaluation will determine how best to scale up the scheme to offer places to many more people.
From 2013, International Citizen Service will seek to include graduates of the UK-based National Citizen Service programme for 16 year-olds.
DFID will work with specialist volunteering agencies to pilot the scheme in the first year, with first year costs of up to £10 million. There will be pre-departure training and support for the volunteers, as well as support on their return to ensure ongoing benefits. Older volunteers with development experience will be able to contribute their skills on longer two year schemes, as well as the three month placements.
Published 6 October 2010