David Beckham delivers bid book
David Beckham has delivered the bid book which we hope will help persuade Fifa to hold the 2018 World Cup in England.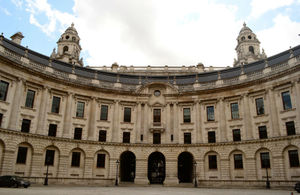 Rt Hon Jeremy Hunt, Secretary of State for Culture, the Olympics, Media and Sport, said:
"This is a great day for everyone who has helped with the bid process and we are hugely grateful for all the work they have done. Hosting the World Cup in 2018 would be a fantastic opportunity for the country and we are completely behind the England World Cup bid.
"We would put on a fantastic football festival and fans from around the world would be welcomed with open arms. We have the stadiums and infrastructure in place, the atmosphere would be electric and the tournament's legacy would benefit the lives of people all over the world.
"Of course, we take nothing for granted and the competition will be tough. But David Beckham has been doing superb work as a bid Ambassador and as the Prime Minister has said, the Government is ready to do all it can to help England win."
Published 17 May 2010