Davey sets out measures to provide certainty to gas investors
17 March 2012 Press notice 2012/025 Electricity generated from gas still has an important role to play over the coming decades as we transition…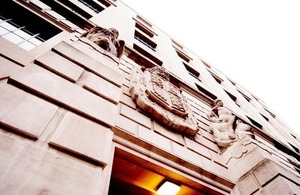 17 March 2012
Press notice 2012/025
Electricity generated from gas still has an important role to play over the coming decades as we transition to a low carbon economy, alongside renewables and new nuclear, Edward Davey said today.
The Energy and Climate Change Secretary set out measures to be included in the intended Electricity Market Reform legislation to provide certainty to gas investors:
The level of the Emissions Performance Standard, designed to limit the emissions from individual plant, will be enshrined in primary legislation. Power stations consented under the 450g/kWh-based level would then be subject to that level until 2045, a process called 'grandfathering' which provides long-term certainty to gas investors.
The Capacity Market will be designed to bring forward sufficient investment in new reliable capacity, including gas, in order to ensure security of electricity supply. This will help to ensure that there is sufficient capacity in place to cope with peaks and troughs in demand.
The Government intends to bring forward this legislation, subject to the Queen's Speech, in the next Session of Parliament.
He also announced plans to publish a new gas generation strategy in the Autumn.
This will focus on ensuring security of supply by setting out any necessary government interventions needed to address barriers to investment in gas generation.
Ahead of this, a call for evidence will be issued shortly to invite views from industry and investors.
Edward Davey said:
"I want a decarbonised grid in the long term, but we can't take our foot off the gas for some time yet.
"A fifth of the UK's ageing fleet of power stations will close this decade and it's not possible to fill that gap entirely with low carbon alternatives in that timescale.
"Gas will continue to play a vital role in a low-carbon economy. Modern gas-fired power stations are relatively quick to build and twice as clean as many of the coal plant they're replacing. Carbon capture and storage promises to give gas an even longer term future in the mix.
"A substantial number of new projects are already in the pipeline and I'm keen to hear the views of industry and investors to make sure our reforms give them sufficient certainty.
"This is all part of our commitment to transforming the market, providing long-term certainty to investors, increased competition, and the best deal possible for consumers".
The Chancellor or the Exchequer, George Osborne said:
"The Government is providing certainty to businesses that want to invest in gas. Gas is a reliable, affordable source of energy. We need to recognise that gas will be a vital part of the mix in delivering affordable and secure low-carbon energy.
"As we work towards a new gas strategy in the autumn, Treasury ministers will host a roundtable with the industry to hear their views on what the Government can do to encourage investment.
"We are also working hard to support the energy sector investment more broadly, including in the UK's oil and gas resources in the North Sea."
Electricity Market Reform will create a framework for the development of a balanced mix of electricity generation, including gas, new nuclear, renewables and Carbon Capture and Storage.
Gas-fired generation will have a very important role to play, even as the UK moves towards its legally binding carbon reduction targets. Modern, efficient gas-fired plant emits half the greenhouse gas emissions of coal while also providing a flexible energy source that can help balance the grid.
In the long-term as we head towards our 2050 goals, gas with CCS can generate significant quantities of low-carbon electricity as part of our low carbon future.
There is strong interest from industry to take forward development consents for new gas plants and Ministers have worked hard to clear the backlog of applications, providing consent for six new plants since May 2010.
Notes for editors
The Emissions Performance Standard (EPS) is a regulatory limit on the amount of CO2 emissions from new fossil fuel powers stations. It will be set at an annual limit, equivalent to 450g/kWh at baseload. This will affect new coal, which would emit nearly 800g/kWh, but is above the level of gas-fired power stations, which emit below 400g/kWh. As an annual limit, it will also allow for gas peaking plant (Open Cycle Gas Turbines), which can emit slightly above 450g/kWh but operate infrequently.
The Capacity Market is a mechanism to ensure future security of electricity supplies. National Grid will estimate the total volume of reliable capacity required to ensure security of supply a number of years ahead and provide advice to Government. Ministers will then decide on the level of capacity required and direct National Grid to contract for this volume through a competitive auction process. This will ensure there are sufficient providers of reliable capacity to meet peak demand.
There will be exemptions from the EPS for plants in the UK CCS programme. Further detail on Electricity Market Reform can be found on the DECCwebsite:
Recent decisions on applications for energy infrastructure are available on the Energy Infrastructure Portal:
The Government's forthcoming gas strategy will draw on the findings of Ofgem's work on whether further measures are needed to enhance security of gas supply (which is due to report in the Summer) and Ofgem's assessment of different electricity capacity margins and the risk to security of supply (which is due in September 2012).
The Government intends to legislate for Electricity Market Reform in the second session of Parliament. The Government's legislative programme for this will be confirmed in the Queen's speech on 9 May.
Published 17 March 2012