Press release
Dates announced for HS2 Ltd and Brent council's community information events
HS2 Ltd and Brent council announce community information events.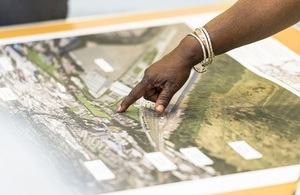 Brent residents living above the route of the new high speed rail line will have an opportunity to speak to experts working on the project at two community events being held in October.
HS2 Ltd has been asked by Brent council to move the proposed location of a tunnel ventilation shaft away from Salusbury Road, which sits within the council's South Kilburn regeneration area, to a new site at Canterbury Works.
These events have been specially arranged by HS2 Ltd and the council to discuss the change with people affected in this part of South Kilburn.
Patricia Thompson, HS2 Ltd Senior Engagement Manager said:
We feel it is vitally important to talk directly with local communities to explain the plans for Britain's new high speed rail network.
Though trains will run in a tunnel all the way under Brent, we still need to build a series of ventilation shafts, one of which is to be located within the Brent borough boundary.
These events will give people a chance to find out more about the reasons for the relocation from the original site and the construction at the new site.
Councillor Margaret McLennan, Lead Member for Regeneration and Housing at Brent Council said:
We welcome the decision by HS2 to accept Canterbury Works as a more suitable site for the proposed works, in response to the petition we submitted to them last year. It means that much needed new and affordable homes in the South Kilburn regeneration area can still be delivered.
We know that some local residents will have concerns about what this will mean for the area and so we will be holding two information-sharing events for local people to find out more information and ask questions.
Representatives from the council and HS2 will be on hand to explain the proposals and address any concerns that people may have.
The events will be held on:
Thursday 8 October and Monday 12 October

South Kilburn Studios
2A Canterbury Road,
London NW6 5SW.

3.00pm – 8.00pm

Those attending the event will be able to view large-scale maps of the site and speak with engineers, environmentalists and property specialists from HS2 Ltd.
Published 30 September 2015