Data reveals Navy's and RAF's busiest Search and Rescue units
During the past 12 months, the data from the Defence Analytical Services Agency shows that the personnel at HMS Gannet in Prestwick, Ayrshire…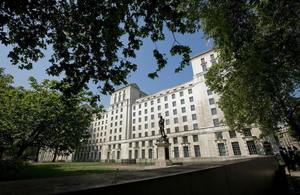 During the past 12 months, the data from the Defence Analytical Services Agency shows that the personnel at HMS Gannet in Prestwick, Ayrshire, have responded to 298 call-outs, rescuing 240 people.
The data also shows that RAF Valley in Anglesey, North Wales, responded to 276 call-outs, during which 246 people were rescued.
The total number of call-outs for the eight military Search and Rescue bases - two Royal Navy and six RAF - was 1,798, with Gannet's 298 call-outs equating to 17 per cent of all military helicopter Search and Rescue call-outs in 2011.
This is the fifth year in a row that Gannet has been named the UK's busiest Search and Rescue unit. Their extreme operational tempo in the last five years has seen them respond to 1,865 call-outs, which led to the rescues of 1,575 people; an average of 373 call-outs per year.
HMS Gannet's Commanding Officer, Lieutenant Commander Debdash Bhattacharya, said:
Like all emergency services we work under significant pressure and always aim to provide the best service we possibly can - frequently lives depend on it.

It is with huge pride that I am able to commend and thank the whole team at HMS Gannet - from the aircrews to the engineers, the met office to the administrative staff, and all the other supporting personnel like security staff - for, once again, maintaining and running this well-oiled operation which saves lives at a moment's notice in often terrible conditions across an area of 98,000 square miles [254,000 square kilometres].

Our achievement is enabled by deep engineering expertise and high levels of professionalism and dedication on the part of the aircrew and supporting staff. Given that the average number over the last half-decade is 373 per year, 2011 was actually a slightly quieter one, though no less taxing for the crews.

Nonetheless, this is an exceptional achievement and one of which each and every person involved with operations at HMS Gannet should be extraordinarily proud.
The official figures show that the average call-out for the HMS Gannet crews in 2011 was to a distance of 53 miles (85km) from the unit and lasted 1 hour and 35 minutes.
The longest and farthest flung sortie was for a medical evacuation at Wick in Caithness - many miles outside the unit's usual coverage area - lasting 11 hours and 40 minutes, and involving a round trip of 465 miles (748km).
At RAF Valley, where C Flight of 22 Squadron responded to 276 call-outs in 2011, Wing Commander Mark 'Sparky' Dunlop said:
C Flight work hand-in-hand with a variety of other Search and Rescue [SAR] units to maintain 24/7/365 cover and they are part of a wider effort to provide SAR cover to the UK. I'm pleased and proud that the figures show that we have maintained this valuable service to the British public.
2011 was by no means the busiest year for the Flight in recent history; in 2009 the Flight rescued a total of 296 people. Some of these rescues performed by C Flight can be seen in a three-part BBC Wales documentary series due to begin broadcasting on 15 February called 'Helicopter Rescue'.
Published 13 February 2012