Press release
Dart Charge payments reach 90%
More than 90 per cent of chargeable journeys made at the Dartford Crossing during December have now been paid for, the Highways Agency revealed today.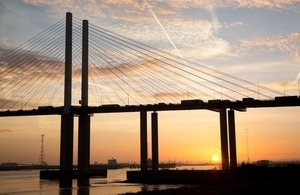 The figure is up from the 85 per cent recorded at the end of December, and shows that the Highways Agency's approach of giving drivers extra time to pay is proving effective.
130,306 Penalty Charge Notices have been sent to drivers who used the crossing in December without paying, which has resulted in a further 73,898 payments being received. First time contraventions include an offer of an extra 14 days to pay the crossing charge without penalty. 18,716 cases have been passed to a European debt recovery agency for issue to overseas drivers.
More than 570,000 Dart Charge accounts have now been set up, at a rate of more than 2,300 a day. More than 1.5 million vehicles are now eligible for discounted journeys at the Dartford Crossing.
Highways Agency project director Nigel Gray said:
These figures show drivers are getting to know and understand Dart Charge, and is that our approach of offering drivers an extended period to pay any vehicle's first crossing charge is getting the right results. The vast majority of drivers are paying Dart Charge and each day this continues to rise.

In particular, it's great that well over half a million drivers have registered for a Dart Charge account and are benefitting from discounted crossings. This means that in many cases drivers are paying less to use the Crossing now than before Dart Charge was introduced. I urge anyone who uses the Crossing more than a couple of times a year to sign up for an account and benefit from savings.
Dart Charge was introduced on 30 November 2014 to help speed up journeys at the Dartford Crossing by removing the need to stop at a barrier to pay the crossing charge. Instead, drivers can pay online, by phone or at one of thousands of retail outlets nationwide.
Drivers with a pre-pay account are eligible for discount of up to a third on every crossing they make, and more people than ever are taking advantage of the offer. 445,181 more drivers are benefitting from discounted journeys than before the introduction of Dart Charge, – including at least 8,776 more local residents from Dartford or Thurrock.
For drivers without a pre-pay account, payment needs to be made by midnight the day after each use of the crossing. Drivers who do not pay on time are liable to receive a penalty charge notice (PCN). However, the first penalty charge notice issued for each vehicle offers drivers an extra 14 days to avoid a penalty by paying their original crossing charge. Drivers are responding positively to this approach with up to 71% of crossings paid following receipt of this first PCN.
The Highways Agency is serious about tackling cases of non-payment of Dart Charge, and their approach aims to strike the right balance between being absolutely clear about the need to pay the charge while giving drivers the maximum opportunity to avoid a penalty.
General enquiries
Members of the public should contact the Highways Agency Information Line on 0300 123 5000.
Media enquiries
Journalists should contact the Highways Agency press office on 0844 693 1448 and use the menu to speak to the most appropriate press officer.
Published 26 February 2015